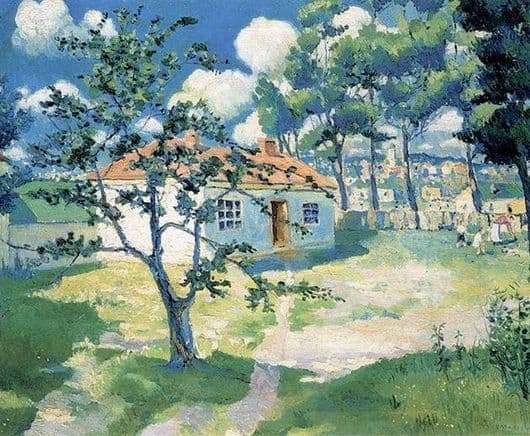 Kazimir Severinovich Malevich – the artist of Russian painting, who managed to turn abstraction into reality. An objectless image for the artist was something inspirational and poetic. A nondescript abstract artist was an admirer of Repin and Shishkin, the great Russian landscape painters. Critics are surprised how Malevich, depicting abstraction on canvases, was simultaneously engaged in creating landscapes.
One of such works was the painting "Spring" by Kazimir Malevich. The author smoothly moves from dark strict forms (Suprematism) to a bright simplification of the image. The origins of such a style as Fauvism originate from the works of French writers. The artist does not try to match the picturesque paintings of others, he tries to convey the essence of everyday culture and folklore.
Work "Spring" expresses joy at the onset of the first heat. Dominated shades of green, which characterize the spring breakthrough. A small house is located between the trees, they stately disband their new leaves. The place in the middle of the courtyard is deserted, but on the right side children play nicely. This simplicity attracts the viewer with its streams of light energy and kindness. A key feature of the artist was the desire for airiness and lightness in his works; this is precisely the moment that is present in this work.
Malevich tried to show that abstraction is not a fairy-tale world in which everything is formal and precise, but simply a new direction that conveys the feelings of artists of the 20th century. Poetry and tranquility do not fade in the paintings, thanks to the color of light. Using the technique of Suprematism, Malevich tried to force the viewer to get inspired impressions when looking at his masterpieces.
The modesty of the artist surprised not only critics of art, but also his close friends. Today, many paintings by Kazimir Malevich are in the Russian Museum of the city of St. Petersburg, and occupy a worthy place in the genre of abstract painting.