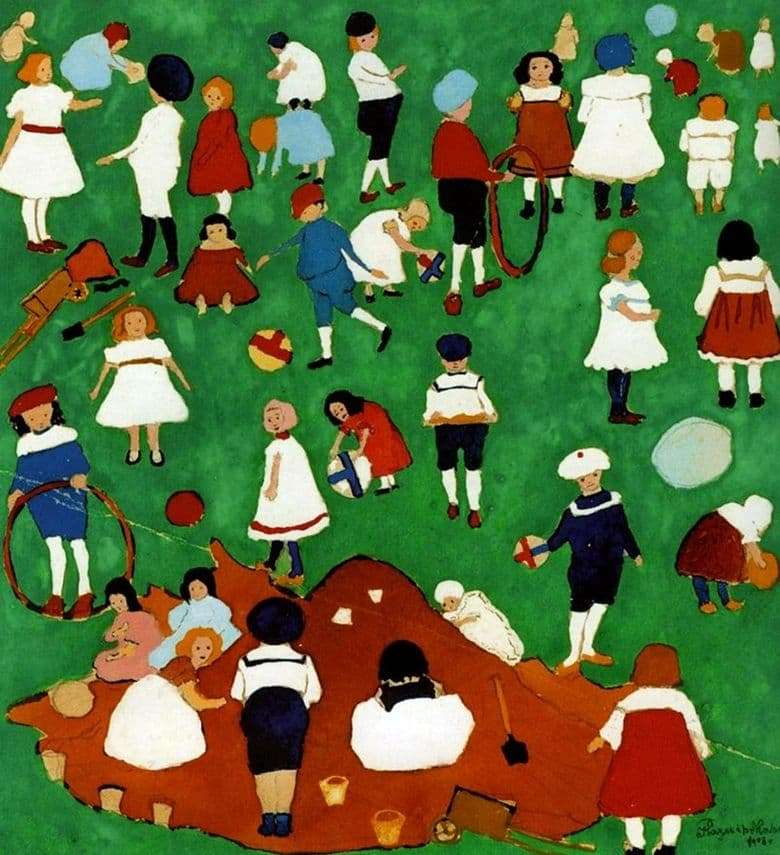 Year of creation – 1908, the genre scene is made with gouache.
The painting is in the State Museum of Fine Arts. A. S. Pushkin
The picture "Children" is overflowing with children's figures – here kids of different ages play, communicate, deal with their urgent children's affairs.
The picture is strikingly similar to the drawing of an unskillful children's hand. Solid green background – carpet of young grass. The canvas literally breathes the summer warm air.
On the bright green veil – uneven, blurring figures, as if the painter's brush wavered a little.
The closest to the viewer is the sandbox. It was taken by girls, only one boy was interested in girl games in the kulichiki. The red-red hue of the sand slide more clearly accentuates the contrast of the color palette, harmoniously being included in the general background.
Across the green carpet in different poses with different objects are children: engaged in games, watching their peers, preferring to play the ball or roll the hoop alone.
Kids, girls and boys are not clearly drawn, their features are not marked, only tiny dots mark the eyes, but neither the color nor the expression of the eyes is in the picture. Figures are asymmetrical, made in the style of Suprematism – a new trend in art that promotes the abandonment of traditional painting, the creation of innovative paintings.
The basic principle is the use of geometric shapes: circles, lines, squares, triangles, multi-colored and different-sized. Unusually shaped children's hats, costumes and dresses are shown schematically, without detailed drawing. The color of children's clothes was chosen in contrast to the general background – the artist chose red, white, blue colors. Paints are bright, saturated, juicy.
There is a lot of light and heat in the picture – the artist with obvious love and warmth treats his characters