Description of the painting by Jean-Honore Fragonard "The Latch"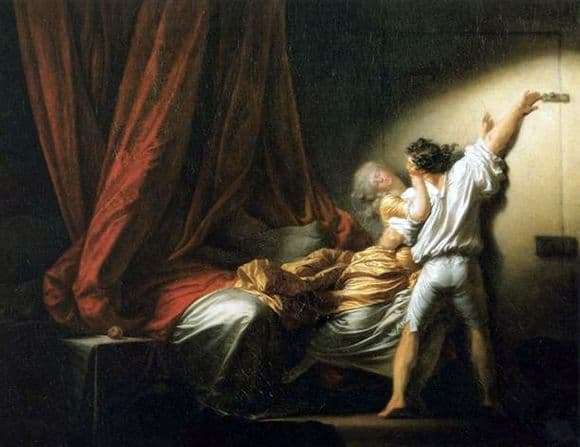 "The Latch" is a work of a talented artist originally from France and living in Paris in the 18-19 century. J. Fragonard. The author created it during a trip to Italy, as opposed to the equally famous masterpiece "The Adoration of the Shepherds". Both canvases became the property of a distinguished customer, the carrier of the title of Marquis – Lewis de Wery. The works are made in the same color scheme and have the same size. However, if the first picture was written on the basis of biblical history, then the "Latch" became the erotic revelation of the author. This subtle opposition game is particularly interesting.
There are other names of the canvas, depending on the subtleties of the translation – "Hasp", "Lock", "Shchekolda". It is one of the 800 gems of the exposition of the main museum of France – the Louvre. The plot is provocative and frank. Passionate young couple depicted in a fit of love. The young man in the picture is already partially stripped and stretches to the latch to lock the door. The lady is languid, limp in the hands of her beau, still trying to resist this. However, just one glance at her face is enough to understand what will happen next. The bed and dress of the ladies are already crumpled, it is clear that young people have already begun a love game. The chair symbolically depicts an apple, according to religious scripture, which is a symbol of sin and weakness of the flesh. The composition of the work is built diagonally.
The picture is amazing not only the quality of performance, but also its value. A small copy of Fragonard's masterpiece was sold for almost 8 million euros. Estimate the cost of the original and quite difficult.





(
2
votes, average:
2.50
out of 5)
Description of the painting by Jean-Honore Fragonard "The Latch"