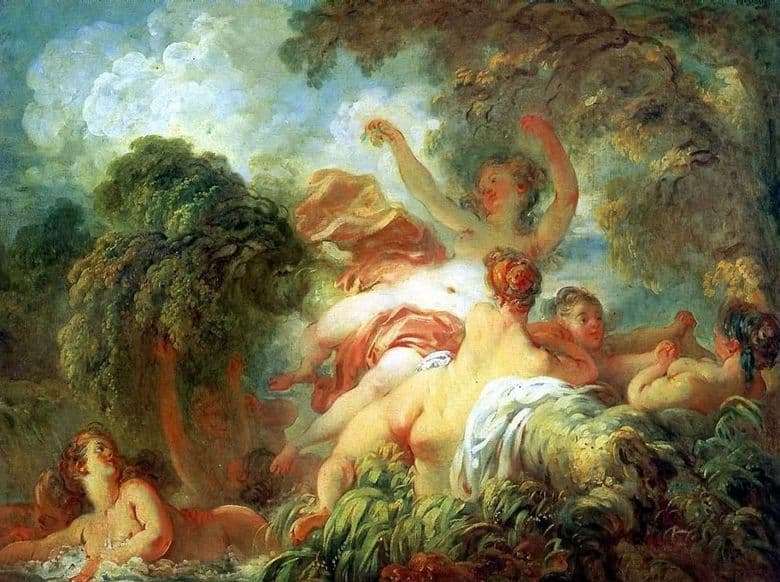 French artist Jean Honore Fragonard was known for his rococo and neoclassic paintings. Frequent heroes of his canvases are almost heavenly romantic couples, playing characters, whose dresses fly around the picture and create the impression of airy and multicolored clouds.
The painting "Bathers", which was created in the period 1772 – 1775, was no exception. The images of the beauties conceal the lightness and a certain eroticism, give the picture a musical poetry. The heavenly creatures are represented in almost naked form, the rays of the sun fall on them, which transfuse the general background in a golden color, which gives the canvas a certain royalty. Nudity of bathers modestly covers with water, coastal grasses and foliage of trees. Dynamism is read in every movement that Fragonard transmits to us – massive trees leaning under the wind, lying grass, flying materials, they appear to be bathers' dresses, and clouds accumulated in a close pile, telling us about the occurrence of bad weather.
Fragonar has gallantly – erotic motifs that are well shown in the picture in question. He draws the forms of the girls with the help of broad brush strokes; trees and grass were created by sharp strokes of the brush and strokes. At the same time, pure color goes well with a mixed palette, in which there is black, almost night-time light and mother-of-pearl-white shades, giving the impression of a day that has not yet ended.
The bathers combine material beauty and theatrical entertainment, which betrays the entire composition of light perception.