Description of the painting by Honore Daumier "Legislative womb"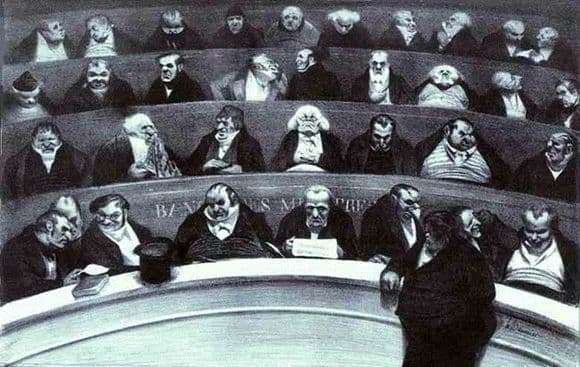 In early childhood, Honore Daumier and his parents moved to Paris, and from this time the boy has a lot of interesting activities – to carry sweets in the grocer's shop, to chat with street stilts, to watch someone from the gateway. The father tried in vain to teach his son his glassmaker's craft – a difficult, demanding, patience occupation was absolutely not given to a restless teenager, and the case helps him to be placed in a lawyer's office by a messenger.
The most fascinating activity for young Honore was drawing caricatures, and his first models – the older boys in the neighboring streets – often took revenge on the young cartoonist, so quick and accurate were his quick drawings. The immediacy and cheerful, impudent character of Honore brings him closer to famous people and renowned painters such as Delacroix, Granville, Corot. Balzac enthusiastically compared his talent with the "muscles
of Michelangelo."
In 1832, for a caricature of King Louis Philippe, depicted as an ugly pear, which in French is consonant with the word "little fool", Daumier goes to prison for six months. However, the many works created there and his fame as a brilliant cartoonist only increases the popularity of the artist, and he goes free, with many offers to work in satirical publications.
From the end of the 18th century, the government of France was in a deep political and economic crisis, which was repeatedly provoked by bloody revolutionary movements, and the satirical art of Daumier inspired the indignant masses to revolt against the current royal and parliamentary elite. As a newspaper worker, the artist could sit for hours in the legislative chamber of the Bourbon Palace, where he studied the behavior of politicians, their conversations and the whole system of French parliamentary power.
Honore Daumier created his best lithograph "Legislative womb" in 1834. On it, the amphitheater is seated by deputies of parliament, in vivid and accurate miniature copies of which anyone could recognize a famous politician or a greedy corrupt official. Some stare blankly at the ceiling, others hate each other entertaining bikes, others openly pick their noses. Fat, ugly and repulsive faces, overweight figures, the chairman obviously forgot where he is and what he should say – like in a huge stomach, they absorb everything that people earn, throwing their "undigested" impurities onto it.
The Parisians eagerly awaited the work of the fearless master, rejoiced at the sharp and pointed criticism, frankly laughed with him. Above each of his work the master worked as a work of art. Like the famous pictorial image of Don Quixote created by him, the knight, without fear and reproach, Honore Daumier fought all his life with the corrupt elite of society and with kings, was always in solidarity with the aspirations of ordinary people and constantly confirmed his own words about the need to belong to his time.
Description of the painting by Honore Daumier "Legislative womb"