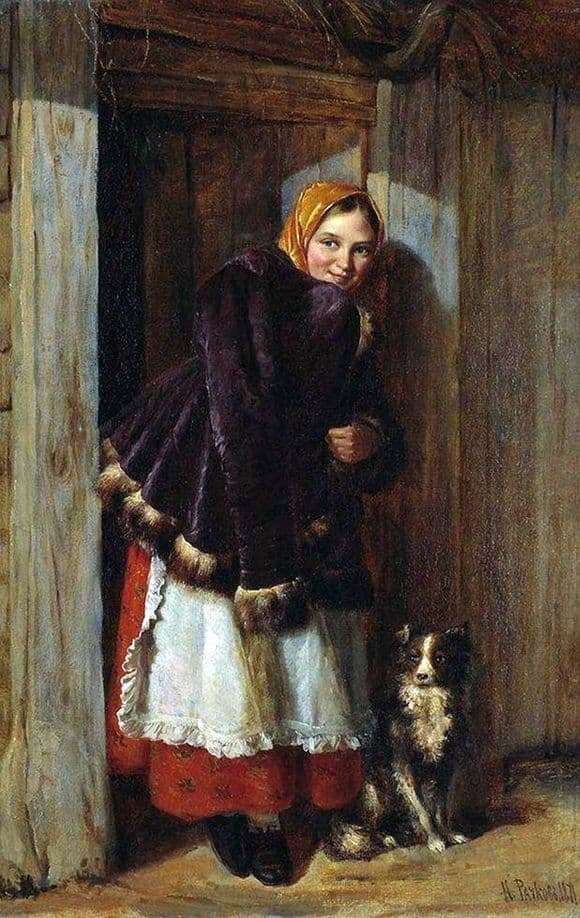 N. Ye. Rachkov – a bright representative of classical Russian painting. His works are popular and bought; he is a master of the domestic genre and portrait. In the painting "At the Gate," the painter displayed the classic Russian beauty of a girl.
It was possible to master the female image masterfully, the women depicted fascinated and not only conquered with their beauty, but also expressed their individual character. The painter wrote the female image in a generalized way, in him he personified the beauty of all of Russia.
In the work "At the gate" a young girl is displayed who shyly waits for someone. She playfully took off her coat from one sleeve. Perhaps the girl goes, on the contrary, on the street, dresses and wants to meet the long-awaited guest.
She has a headscarf on her head, a classic headdress of young girls of that time. A long skirt with an apron speaks about the beauty of home clothes, it does not seem like she was going to visit. A dog is sitting at my feet, she humbly hides herself.
The painter very accurately conveyed the traditional character in the clothes of Russian beauties, an ordinary, unobtrusive outfit does not overshadow the pure beauty of the character, but on the contrary, even emphasizes the oval face, pink cheeks and big eyes. The girl is depicted against the background of the doorway of an ordinary wooden house.
You can not see any furniture or any interior items on which you can assess the prosperity of this family. Everything is modest and ordinary. The master emphasized the unusual beauty of Russian women in a very modest setting. The girl smiles, her eyes open and exudes kindness.
The picture creates a warm atmosphere, it seems that you feel the warmth of this hut and comfort. The artist conveyed the goodwill of the Russian people, their warmth and hospitality. All work creates a picture of modesty and even naivety. In the modern world it is difficult to meet such a pure person as the heroine of this canvas.