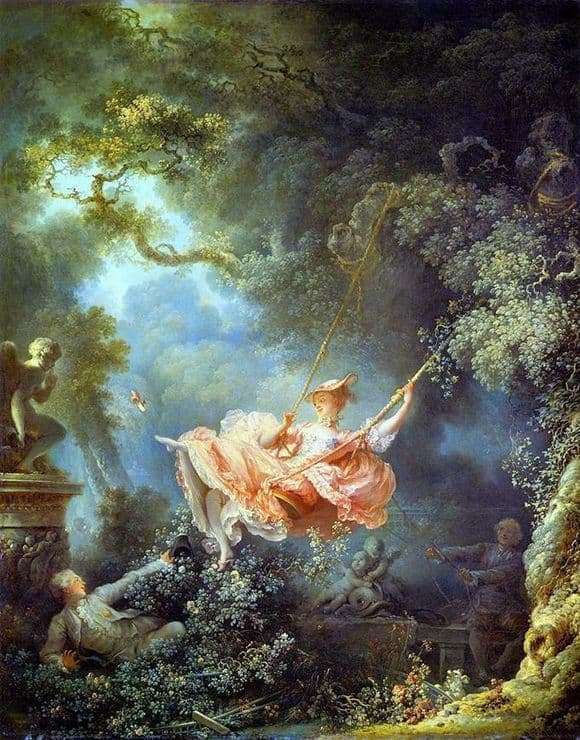 Jean-Honore Fragonard, a cheerful, witty and consistently affable, worked in the rococo style – a genre that does not pretend to be deep, and is designed to decorate interiors and to please the eye.
Therefore, the picture entitled "Happy Possibilities of a Swing" is imbued with the characteristic lyricism of mood, playful eroticism, refinement of details, ease and elegance of the composition, characteristic of this style.
The plot of the work, like everything else that the artist created, is frivolous-erotic. The young beauty in a magnificent dress of pastel tone swings on a swing. A swing is rocked by a middle-aged man sitting in the shade of a tree.
With each take-off of the swing, the girl's puffed skirts soar up, exposing her legs in white stockings. Below, among the azure flowers, is the girl's beloved, who did not accidentally occupy this very advantageous location. Captured by the ecstasy of flying on a swing, the girl throws up her left leg and a shoe flies off of it.
Dense and bright green of the garden remarkably shades the coral undertones on the girl's dress. The bright rays of the sun illuminate the composition, giving the entire scene lightness and all-consuming major. The young man sits surrounded by beautifully written bright garden flowers. The stone Cupid, illuminated by bright glare of the sun, is depicted with a finger attached to his lips, as if asking not to betray a young man hiding in the thickets. Two puffy Cupids hugging a dolphin complement the scene.
The idea of ​​the plot belongs to its customer, Baron, Saint-Julien, who wanted Fragonard to depict him in the most advantageous place for viewing the girl's legs on a swing. The idea of ​​a slipped shoe belongs to the artist himself – this detail gives the picture some dynamism. For a long time the picture was not known to the general public due to the fact that the baron did not seek to put it on public display.