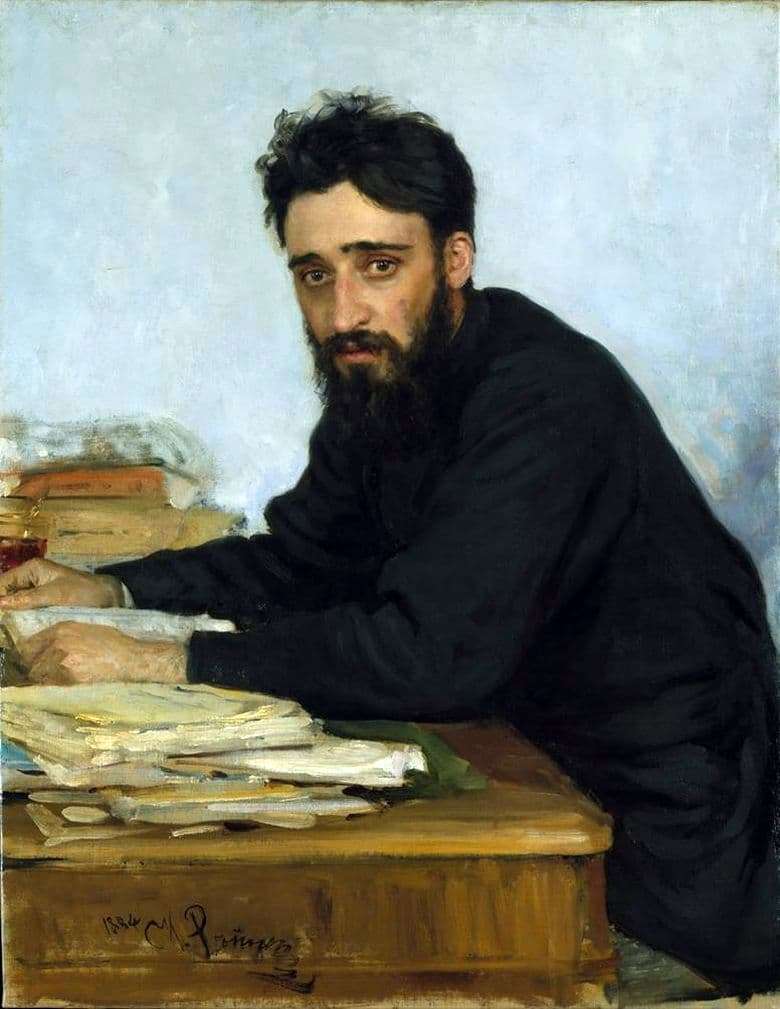 1884, painted in oil on canvas. Dimensions: 88.9 by 69.2 cm. Located in the Metropolitan Museum (The Metropolitan Museum of Art), New York, USA.
As a creator, Ilya Efimovich was inexhaustible and incredibly multifaceted in the role of artist, teacher, art theorist and writer, he was interested in historical, epic, folk stories and contemporaries. When creating stunningly realistic portraits, he "fell in love" for a while and hung up on a person, reading or listening to the works of writers and composers, memorizing the lines of poets, studying pictures of fellow artists.
For the first time the painter met Vsevolod Mikhailovich in the concert and theater hall in St. Petersburg and immediately wanted to paint him. This did not happen immediately, but as a result, the image of the writer was reflected in three works of the master: the current, memorable "We did not wait" (returned exile), written in one year, and the next – impressively grim "Ivan the Terrible and his son Ivan" ( Prince John). The artist saw in the young man a shy, kind and beautiful angel, within which the doom lay. During collaboration, they even became friends.
In many ways, Repin's vision was reflected in Garshin's sad, intelligent, serious and very deep eyes, in the general expression of his face. The abundance of books and sheets on the table shows how much he read, literally swallowing texts. However, in Russian journalism, the writer was noted for short and emotional stories, the development of a special form of short prose – a short story.
Despite the light gray background, the canvas makes a rather heavy impression. It consists of black clothes, a stooped figure and a few tense hands of the portrait, enhanced by the nervous, ocher-brown and green color of the furniture. It seems as if the artist saw and tried to betray the not so obvious, destructive side of this man's personality, because in just a couple of years, in a fit of nervousness, he would fall off the stairs and die in terrible agony.