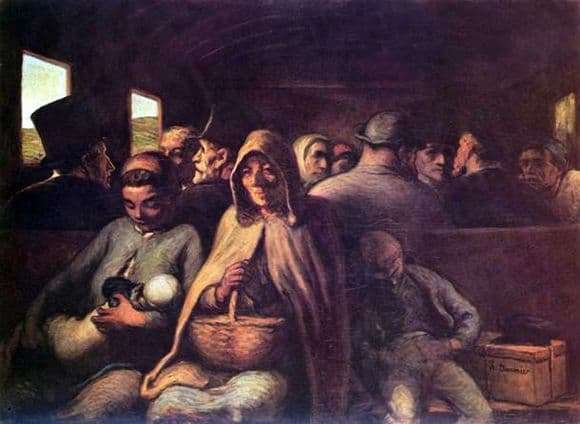 The picture, written in the nineteenth century, refers to the phenomenon of that time – the railway. Then it was strange and new, and Daumier could not sidestep this topic. Known for his time satirical caricatures, his paintings came out bearing important themes. This picture also shows a dissimilar crowd swaying in time with the movements of the train. Oil on canvas perfectly conveys the mean, dark colors with which the artist worked. He wanted to show people who are traveling in a third-class carriage – a place where it is not necessary to talk about amenities.
The light from the window barely illuminates tired, emaciated faces. The carriage is packed to capacity, another person here would have no place. The characters depicted here, accustomed to put up with the blows of fate, and on their faces – obedience to all possible difficulties of their difficult life. The foreground shows a woman, for whom it is quite common to breastfeed a child with other people. She just doesn't care. Next to the old woman sits a boy who, from fatigue, has been forgotten by a heavy sleep.
Low ceilings almost put pressure on passengers, forcing us to think about how they will get out of public transport. On the whole canvas, only one smile flashes and that smile is not full, but only its shadow. She runs over the face of the dormant boy, showing that no difficulties have any power over the world of children. And he also says that his disarming naivety is able to withstand both the suffering and the impoverished life. The artist has prescribed this smile with special attention.