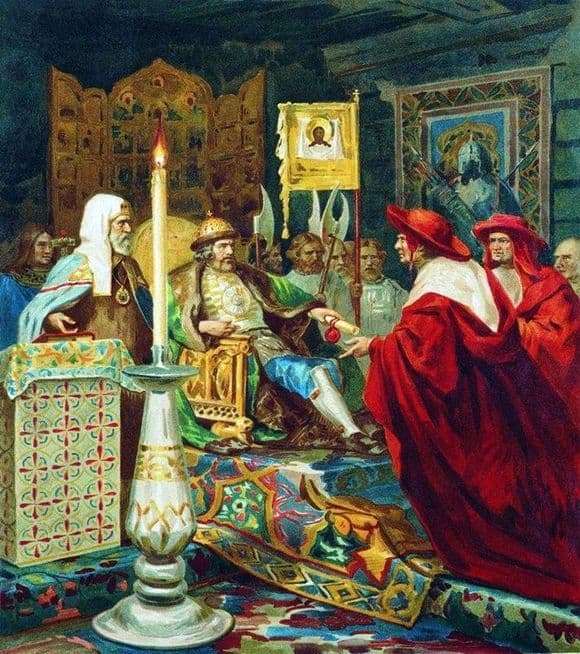 The canvas represents the Russian period of creativity of the famous artist. Before the start of the murals of the choirs themselves, Semiradsky worked out sketches for a long time in order to display the story from the life of St. Alexander Nevsky as accurately as possible.
The artist will have to translate into the person of Nevsky and a wise ruler and a person with a huge soul, which allowed him to be canonized.
Unfortunately, the painting has not been preserved, and one can only judge a magnificent picture by sketches.
The painting "Alexander Nevsky accepts papal legates" is only the fourth part of the whole picture. The peculiarity of this work is considered the ingenious elaboration of the smallest details.
The artist worked so scrupulously on historical authenticity that those who came to the temple felt themselves witnesses of what was happening. Some have argued that the picture, therefore, lost its spirit of sublimity and it has no place in the walls of the temple. That's just the genius of the work did not allow either the clergymen or the strict critics to demand to sketch the painting.
The scene from the material world is quite colorful. And we are talking not only about the variety of colors and their shades, but also about the small details of the painting. The faces of Nevsky and one of the papal legates are clearly distinguished, which are located in the foreground, but also the faces of the guards and the face of the saint in the background of the work are perfectly visible.
Blamed Semiradsky and passion for particulars, which naturally will distract from the holistic perception of the picture. The effect, however, was slightly different. The picture was transformed into something large-scale in its value, but not in size. This very incidentally emphasized the importance of the moment described for the history of Russia.
In general, the painting belongs to the monumental works of the artist, because of its apparent proximity to easel painting.