Description of the painting by Ivan Shishkin "Fallen Tree"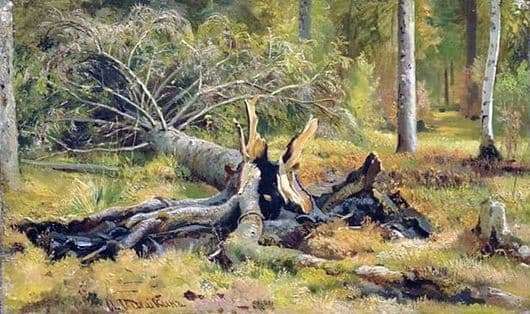 Different works have this great landscape painter. In different ways, he managed to show the harsh Russian nature. Almost all the diversity of the Russian natural complex with its costs in the form of rain, snow, drought… We got a lot of canvases from this artist and almost all of them are known to us since childhood. His amazing work and then led to the delight of visitors to exhibitions or galleries. And now they cause no less delight over time. But it was not enough.
It would seem that nothing unusual on the canvas is not depicted. We just see a tree that has fallen down in front of us. It would seem that a powerful tree in its structure turned out to be actually rotten from the inside. Exactly that inside it was rotten and caused its fall. Even despite the fact that the roots of the tree were powerful and deeply embedded in the ground. This did not save the tree from destruction. And yet, surely it is not just the
painter who depicted this tree. Not just like that…
Even then, the spirit of freedom wandered around Russia, which later led to the overthrow of the royal family and the accomplishment of the revolution. When you think purely historically, looking at this canvas, you begin to assume that it is just about that time. Outwardly, the tree seemed powerful like the Russian empire until 1913, but as it turned out, society was completely unprepared for change, and therefore collapsed. Above – powerfully, internally – rot. Here it is the symbolism of the artist. Although in fact very few people can say for sure why this canvas was born. Maybe the author thought otherwise. Now you do not ask.
But the canvas was greeted enthusiastically by the common people, but the officials clearly met this canvas with caution. Shishkin, while few could call a revolutionary. Rather, he was an innovator in his business – an innovator, landscape painter and more he did not need anything. But who knows, who knows…





(
2
votes, average:
5.00
out of 5)
Description of the painting by Ivan Shishkin "Fallen Tree"