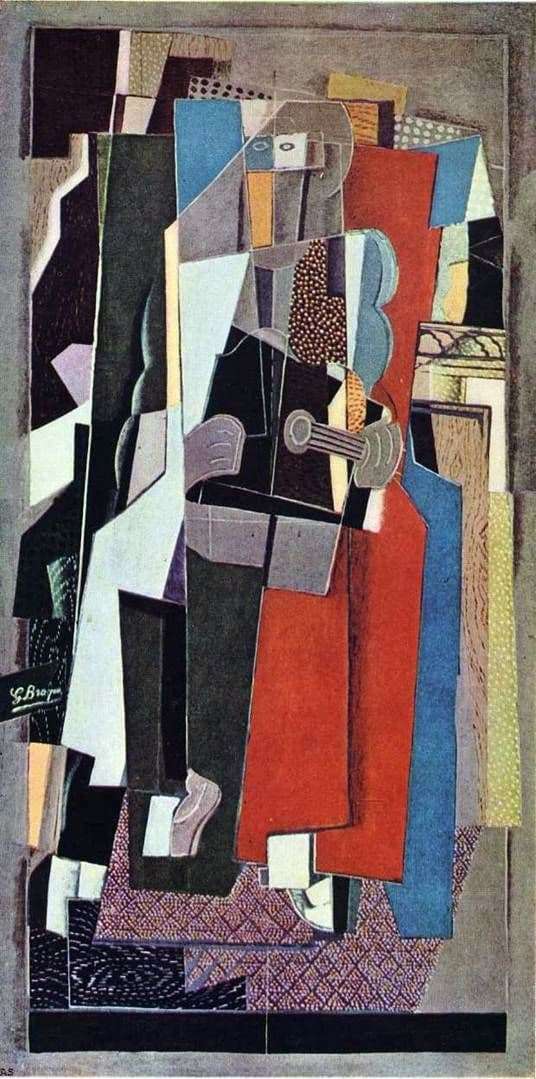 Multidisciplinary art creator Georges Braque has noted himself in history as a decorator, sculptor and graphic artist. He mastered the ideas of impressionism, was for a long time immersed in Fauvism, together with the great Picasso formed the direction of cubism, and then turned to free experimentation with color and shapes, continuing to write still lifes and landscapes.
During the period of the foundation and development of Cubism, the French artist created the painting "The Musician". The work of 1918 is presented to the general public as the stylistic direction of synthetic cubism. When Picasso and Braque were fascinated by the technique of application and collage, this led to the birth of a new idea – to synthesize cubic figures from heterogeneous elements. In this way the composition of the "Musician" was composed.
Before us is an oblong canvas. There is a stylized frame inside the picture. The image of the musician is made using layering on each other and connecting objects of different colors, shapes and textures. The color scheme is applied restrained, fairly bright: red, blue, orange, green and yellow. Forms are consonant with the proportions of the picture as a whole: oblong, elongated along the vertical.
The artist introduced a large variety in the cubic format of objects, adding the figured limbs of a person, rounded eyes and the fingerboard of a musical instrument.
Synthetic cubism is guessed in the application of hand-drawn figures with rhythmic repetition of dots, dotted lines, rhombuses and lines.
The "Musician" of Marriage is the quintessence of an individual style, a complex and undoubtedly interesting work. The perspective of building a composition is surprising with the flat shape created by the volume effect. The wealth of broken figures, color contrasts and stripes masterly draw the image of a man playing a guitar to the viewer.
The canvas nowadays flaunts in the art museum of Switzerland.