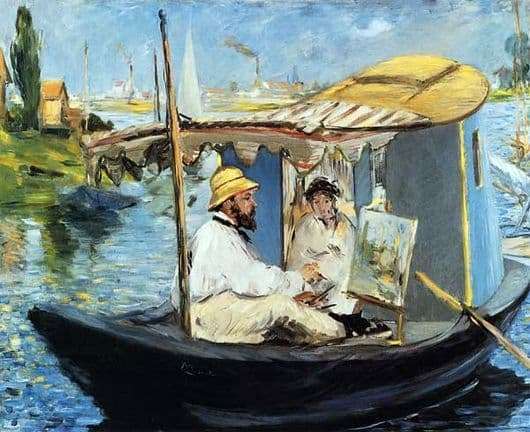 The painting "Claude Monet in his boat studio" was written by Edouard Manet in 1874. At that time he made a summer trip to Argenteuil in the company of Claude Monet. There they worked together on painting, and Manet depicts a great master at work in his boat. Although Manet worked in the era of the Impressionists and he liked to communicate with them (he was especially interested in their work with lighting), he never considered himself among their groups. He wanted to become an officially recognized and well-paid artist entering the Salon from the main entrance, and not exhibiting at some wretched shack.
The style of Edward Manet is different from the style of the Impressionists, as can be seen in this picture. The Impressionists rejected black, Mane, on the contrary, always uses it. Long and smooth neat strokes are applied to the canvas (and not short strokes or even impressionist points). It can be seen that the colors on the canvas are mixed, the shades are different (the impressionists mixed paints in very rare cases).
It is impossible to say what genre this picture is. Careful attention is paid to both portraits and the landscape. The central place in the composition is Claude Monet, who works on the portrait of a certain lady. He works afloat in his boat-studio, but his work, despite the rolling on the waves, is accurate and beautiful. A sketch is visible on his easel, the strokes of his brush are dense. Monet is depicted wearing a light shirt and pants, he is thoughtful and focused on work. The lady model is beautiful, she is also wearing bright clothes and she is looking forward to the end of the work, she wants to look at the result.
Very clearly, Manet draws the landscape surrounding the characters. Waves and glare on the water, the sky and clouds floating on the horizon of a yacht with smoking chimneys, a wooden house on the shore. All this successfully frames the artist and the lady sitting in the boat studio.