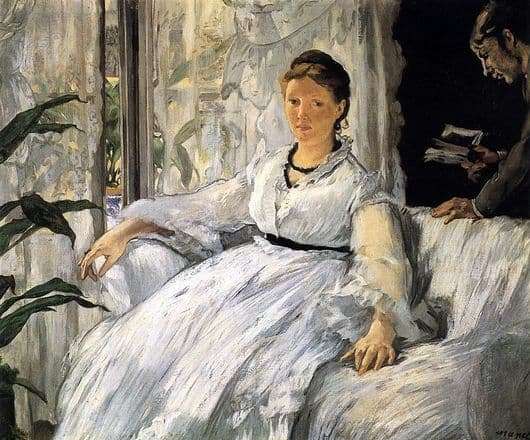 In 1868, Manet wrote the painting "Reading". The model for this work has become the French Victoria Meran, which has been noticed not once on the artist's famous canvases. Manet, a true French painter, not once wrote the streets of Paris, river scenes, sensual portraits and still lifes. His painting "Reading" is distinguished by a special, peculiar only impressionist, manner of writing. So, Edouard Manet was able to make the surrounding reality an object of art.
The mystery is the fact that even Manet is partly the ancestor of impressionism, but the author could not merge with the movement. He refused to participate in the exhibitions of the Impressionists in addition to art Salons, explaining this with his aristocratic prejudices and quirks.
What is remarkable about the painting "Reading", that, although the author was distinguished by a large internal stability of images, he still used in his arsenal techniques of impressionism – broad strokes, an impulsive, dynamic image, as if snatched from the general flow of time.
Critics have repeatedly noticed that the 70s were the crown of the author. At that time, Mann was strongly influenced by the works of Renoir and Monet, it was then that he created his unsurpassed female portraits, to which the painting "Reading" belongs. At first glance, the canvas seems to be a completely unremarkable copy of the painterly skill of the author.
But if you look closely, you can see the freshness of the morning, the glare of the sun, playing on the girl's dress. She froze in amazement, apparently, the artist suddenly found her with her lover reading a novel. The beauty is surrounded by a gentle glow of lace.
The painting "Reading" is a true vision of color and light. In this portrait, Manet managed the transmissions of the enchanting character of the characters through his amazing writing style.