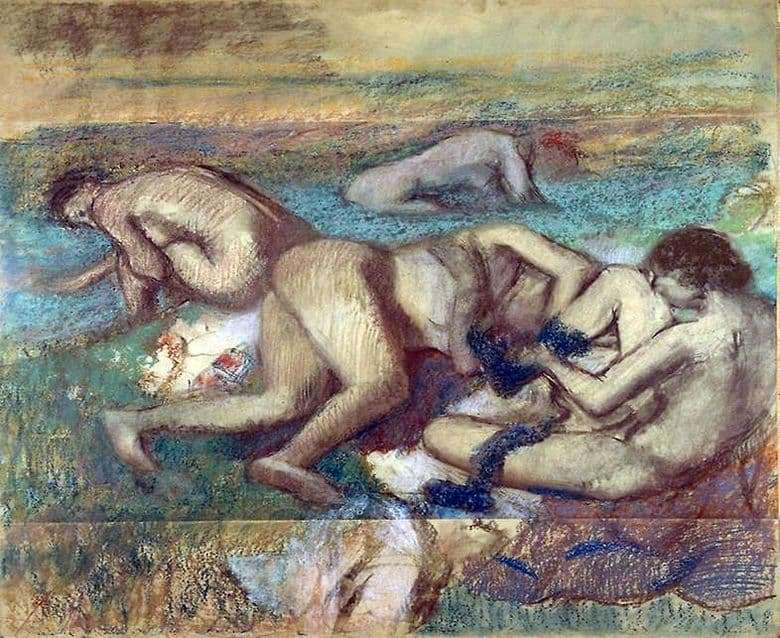 This pastel is one of the most ambitious projects of Edgar Degas in the last ten years of his life. The picture depicts four women involved in bathing. Someone is engaged in various procedures, and someone just basks on the grass after the end of this important and pleasant ritual. Like in his other works, the artist chooses a simple plot for the image, familiar to the viewer. Judging by the relaxed posture, women behave naturally, not knowing that the artist is watching them, and with him the audience of the picture. The desire to fix a specific action in time and space distinguishes the artist from other followers of impressionism.
The picture is interesting and its unique writing technique. The artist created on the translucent tracing paper each color layer separately, and then combined all of them together. This creates a sense of volume and bulge work. The painting was not finished by Edgar Degas. In the lower part of the work there is a noticeable fragment that differs in color and drawing from the whole picture. Perhaps the artist did it intentionally.
The background of the picture is striking in its versatility and smooth transitions from one color to another. At the same time, the image of the bathers themselves seems conditional and schematic. We do not see the features of any of them, and the figures are in a haze. Outlines of beautiful female bodies appear before the viewer, but without erotic details.
From the point of view of composition, women evenly fill the space of the picture. Edgar Degas positions the bathers so that the viewer's gaze slides from right to left, from the nearest figure to the furthest. It was a new word in painting. Prior to this, the artist used the traditional technique of keeping a look exclusively clockwise.