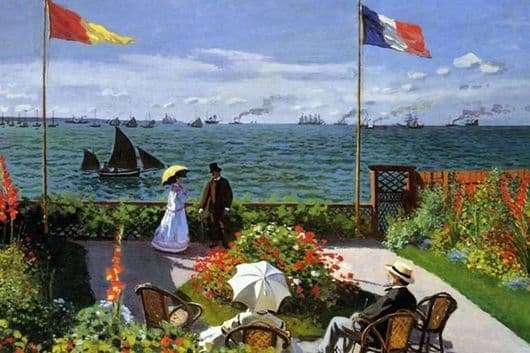 It should be noted that the very composition of the canvas is quite original, given the fact that for Monet, it is somewhat unusual. Even with a cursory inspection of the picture, the fact that the picture does not have a well-defined center is immediately striking, in addition to this, you can also notice the lack of a high angle. Now in more detail about the characters themselves pictures. It is authentically known that in the armchair, on the right side of the picture, it is Claude's father Adolph who sits.
In a more central part with an umbrella and back to the viewer, one can observe either the artist's sister or aunt. And the girl who stands with the young man is the master cousin.
It should be noted that the picture is given a fairly wide part of the space just under the water surface, on which you can see a sufficiently large number of different sailing vessels, which have different sizes. The sky can somehow be divided into the part where there are clouds and the one where they are not. Together with the water space, the second half of the composition is occupied by the terrace.
On the terrace you can see a large number of colors, apparently these are instructions and gladioli, and the variety of tones and colors is further emphasized by the flags, which are arranged asymmetrically to each other. It is worth noting that Monet in this canvas sought precisely for the qualitative construction of the plot of the canvas.
This work has a very clear distinction between his previous works and this one, which is maximally qualitatively spelled out and has clearly distinguished and spelled out nuances.
It is visible that the master does not give free rein to the brush and tries to make each stroke very neat and to find his own place. It is noticeable how the artist performs color shadows, conveys not only the texture, through the difference in shades and highlights, but also due to color.