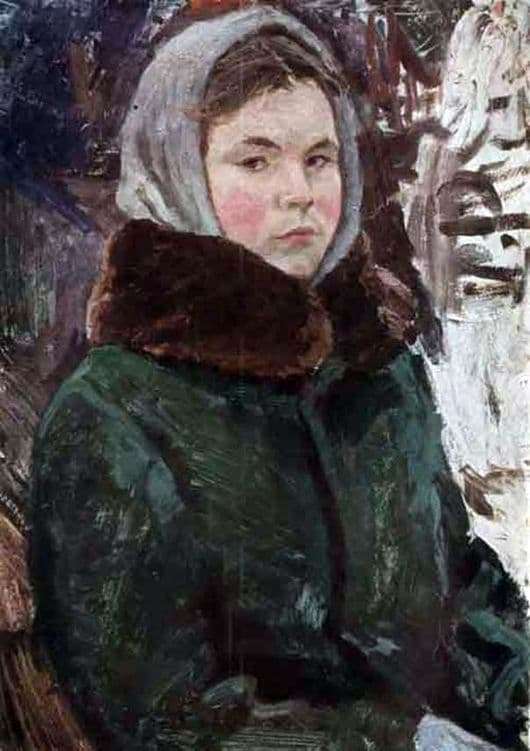 The canvases of the great Soviet artist Arkady Plastov always had a distinct difference, thanks to their simplicity and a certain amount of artlessness. Is no exception and his work, called "Tanya".
In the picture there is a picture of a young girl who is quite warmly dressed, which symbolizes the cold season of the year. You can also note the natural blush on the cheeks, which, most likely, appeared due to cold or cold wind. The artist focuses precisely on the girl's face, completely forgetting about the background. The face appears frowned or even somewhat pompous.
The picture looks gloomy because it was made using exclusively dark shades and tones, and even the fact that white and green was added to the painting of the picture does not enliven the canvas, but only emphasizes the severity of the picture. The picture shows not just the face of a young girl, in all her image, the artist presents the whole peasant era, to which Plastov was committed until the end of his days.
The master has never resorted to some exciting tactics, in order to give the picture simplicity and naturalness, just by writing the picture for what it is at the moment, the viewer has the opportunity to experience the image, energy, emotions. The picture amazes with all its naturalness and ease, which amazes and captivates at the same time.
The canvas is not immobile, but more similarly, the moment just stopped, at which moment the master managed to capture, and most importantly convey the emotional state. In order to be able to appreciate the entire depth and completeness of the picture, it is enough to look at similar works by the master, who, in the same way, convey the depth of feelings, but in which brighter colors are used.