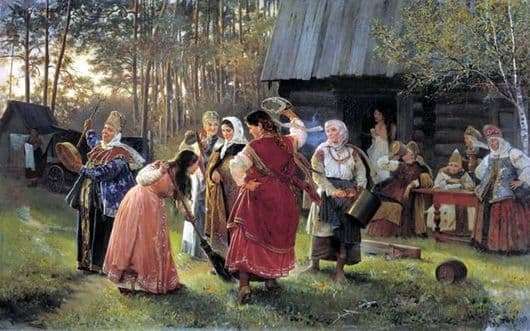 Have you ever been to a Russian hen party? But not on the one that is being carried out now, but on the one that many years ago in Russian families are held before the bride's wires. This is a special ritual, special chants and special dances. As a rule, the ritualists were the tone at such a holiday. It was they who started singing songs, dancing, and each, and there were at least five people, had their own ritual assignment.
Look at this canvas, and everything will immediately become a little clear. In the middle of the circle is the sister-in-law, and around her singing and dancing pranksters. Each of them in the hands of the subject of household utensils. One broom, which she sweeps in front of the daughter-in-law, is that the family path is clean; another bucket with a rocker is that the water between the spouses does not leak, to hold tightly to each other; the other has a poker with a poker – this is so that the feasts can be hospitable, while the other two needles have the objects to be heard louder than the evil spirits. And all this action is happening right before the bath. She had just left her, she covered her head with a head scarf and hid her nakedness with a short fur coat.
And a little aside for all this grandmother midwives look after yes matchmakers, yes relatives. This is also important. You never know who jinx it, Ali still, what a dirty thing happens. They drink beer from mugs and quietly among themselves discuss how what is happening. And in the doorway of the bathhouse, then the future bride-in-law must have lingered, gazing at the ritual merrily. She probably understands that next year she will also stand in a circle and quietly take the ritual words to her girlfriend's mind.
The artist caught this moment, gave it a bright nationality, but at the same time he tried not to be too bend in ancient customs. The villagers, if they are dressed in a festive country, they are not very smart. He tried to portray everything in a simple, rustic way. And the daughter is good, and the canvas itself is dynamic.