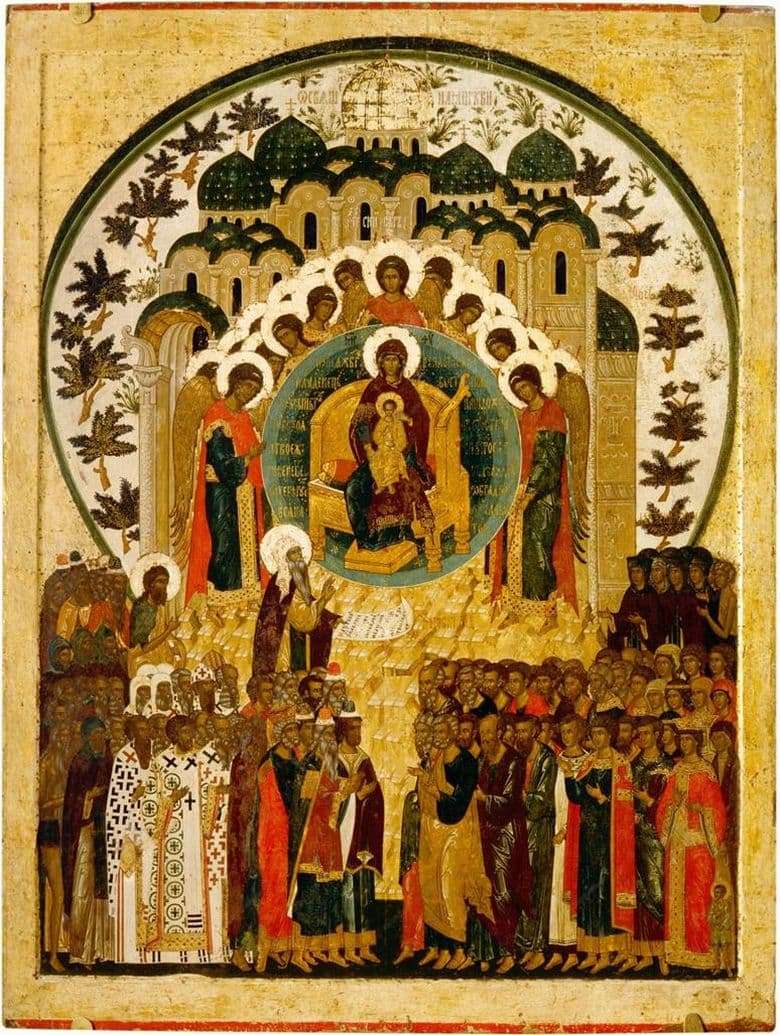 The image written by the icon painter Dionysius is directly connected with the church chants. The icon of the first iconographer Dionysius "He rejoices in you" depicts the divine song of the martyr John to the Blessed Virgin Mary "He rejoices in you, Gracious…". The icon was written by Dionysius around the end of the 15th century and the beginning of the 16th century.
In the image, the Mother of God surrounded by angels is in the center. Sitting on the throne, slightly turned to the right, she holds the baby Jesus Christ in her arms. The throne on which the Mother of God sits is wooden, wide, with a rounded back. As if a rainbow of blue shades, heavenly and earthly glory is depicted around the Blessed Virgin Mary.
Behind the throne is a temple with domes, a blooming paradise garden. The temple is a white five-dome, symbolizing the Heavenly Jerusalem. Kupala and the rest of the roof of the temple of an evil color. The garden consists of flowering and fruit-bearing trees and shrubs.
On the left are John Preteche and Ioan Damascus, holding a scroll in his hand (presumably he is the author of the prayer "He rejoices in you"). On the right are the nuns who symbolize the innocence of the Virgin, as mentioned in the song "The Virgin Mary is a perfect maiden." The lower part of the icon depicts the people who glorify her and the baby. Below right are the martyrs and apostles. On the left are saints of different ranks.
The iconography is made in a colorful color scheme that embodies the joy and glorification. Dionysius applied various combinations of shades using thick, light and cold.
The icon painter perfectly depicted the mutual relations of the heavenly and earthly worlds, without distorting their meaning – peace and harmony, the unity of the universe. You can see the classic moderate ratio of the upper and lower parts of the image.