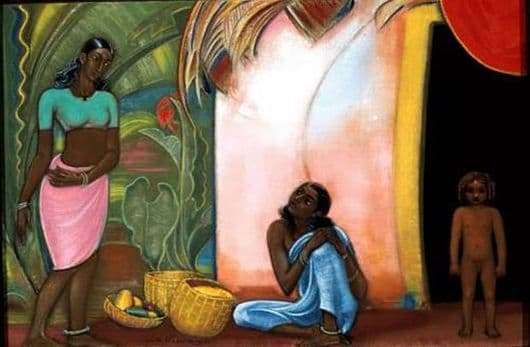 About the Roerichs for a long time and everyone knows. These are great artists and each of them is original. It was their fate that they had to leave their homeland, and they went first on a journey around the world, and then stopped in Tibet. But traveling, of course, made sketches. Where only they have not been: India, Pakistan, both America.
This canvas is clearly South American residents. On the canvas you can see the house and its inhabitants – two women and a child. Adult men, as a rule, in the morning on a hunt or at work. Women are involved in home improvement and child rearing, if there are any. We see what the local aborigines eat as they are dressed. At the same time, the nature of this region is also visible – its brilliance and brightness are striking. And women are dressed not in gloomy colors, but in bright clothes. True, the artist noticed a commitment to brightness in everything among Asian nations.
But meanwhile, of course, the artist also noticed poverty, or rather the wretchedness of the locals. These are people to whom civilization, if it has reached, is not completely. They live by the old rules and laws, live by what their ancestors bequeathed to them. Another completely life, a completely different understanding of life and of course this is a powerful difference from all that modern people are used to seeing.
Roerich canvases have always been marked by a special humanism or some other formation of thinking. But at the same time, the canvases are always light, joyful. Basically it is landscapes: flat, mountain, forest. And each canvas can be safely ranked among the masterpieces. No wonder the world created exhibitions of Roerich paintings and there are always quite a lot of visitors there.
"My Neighbors" – the canvas comes out a bit from the main set of canvases, but even so, it is interesting. The artist, as it were, tells us that life is bright, whatever a person is and whatever race he belongs to, it is equally bright for everyone.