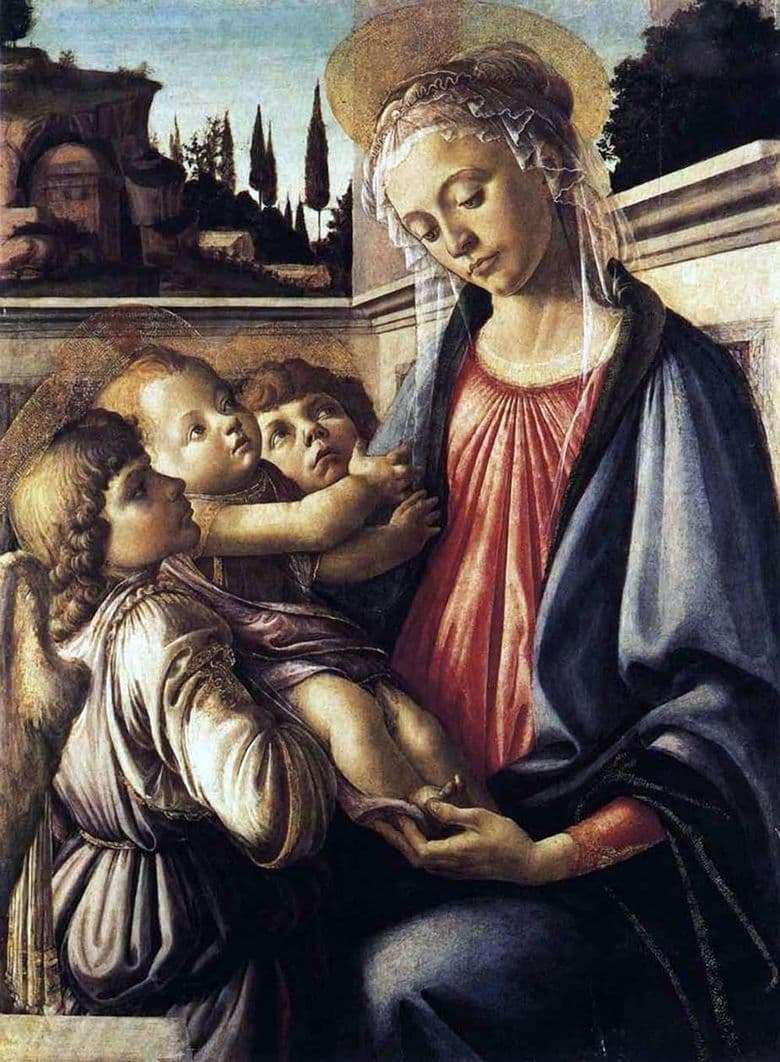 Alessandro di Mariano di Vanni Filipepi was born in Florence in the family of a tanner. His older brother Giovanni, an incredibly fat boy, was teased by Keg (Botticelli), and the nickname stuck to both brothers – some illiterate neighbors considered this ridiculous nickname as a real last name. As he got older, Alessandro did not abandon the children's nickname, and used it as a pseudonym, becoming an artist. The first teacher of painting young Sandro became Filippo Lippi, whose manner of writing the young man took over quite accurately. The artist is a classic representative of the Florentine school of painting. He created both religious and secular works – aerial, light, filled with the finest nuances, a gentle play of light and shadow. Botticelli's works are plastic and musical, he is distinguished by a special smoothness, melodiousness of lines.
In the work of Botticelli survived more than fifteen images of Madonnas with babies. He painted them throughout his life. Time after time portraying Christ's mother as a young, beautiful, incredibly spiritualized woman, the artist achieved perfection in writing such paintings. "Madonna and Child with Angels" is one of the most famous works of the author. In the picture we see a young, harmoniously built, light-eyed woman of the classical Florentine type, with large eyes, soft cheeks and a small chin. Her light reddish hair is hidden under the thinnest light veil, a golden halo shines proudly over her head. Madonna is dressed in a heavy scarlet dress, flowing in loose folds, and a dark blue cloak covering her knees. She looks touching and fragile, carefully holding her precious burden.
Baby Jesus in the arms of a woman is incredibly similar to the Virgin Mary. If it were not for a halo, we would have a simple realistic portrait of a mother, looking at her son with love and affection. The eyes of the infant, tender and plump, are also directed toward the Madonna. The two angels on the left and right of Christ are beautiful young boys; the one closest to the viewer is a little older, his look is more serious, the blond curly hairs go down on his back.
Soft wings are rather a decorative element, we do not see the place of their connection with the body; the wings of a distant angel are not visible at all. According to tradition, angels on canvas should glorify Jesus; however, Botticelli has rather two nice curious boys looking at mother and child with interest. Madonna and Child and the angels are depicted in the open air, on the open terrace; beyond the white balustrade we can see lonely dark cypress trees and a pale blue sky. The composition of the picture breathes peace and tranquility; the young mother is not yet aware of what tests her little son will face in the future. Gentle transparent light fills the picture, and no feelings and passions so far touch her heroes.