Home

⇒
📌Matisse Henry

⇒
Description of the painting by paintings by Henri Matisse "Open Window"
Description of the painting by paintings by Henri Matisse "Open Window"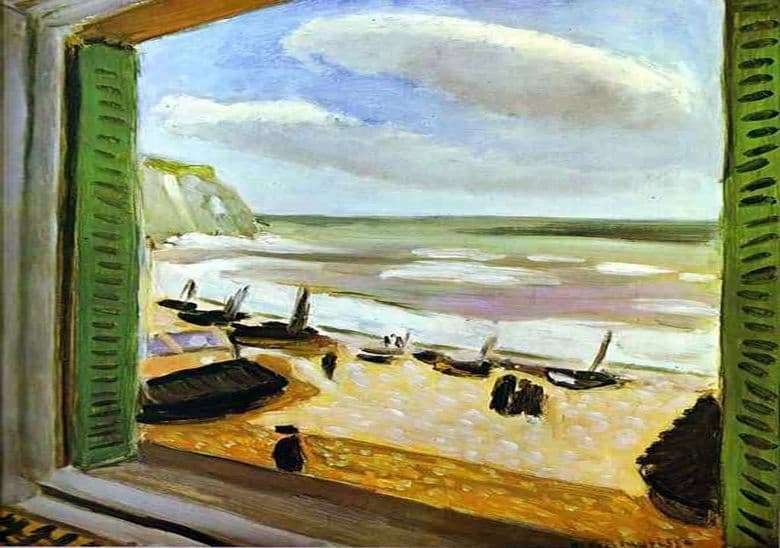 The artist often used his favorite trick – an image of an open door or window. This helped him to build the composition of the future picture itself. All the beauty of the Mediterranean were able to convey beautiful tones. The picture seems to be written in a careless technique, here we will not find any smooth transitions and semitones. This beauty is rather solemn and jubilant.
The canvas depicts a view of the southern coast of France. The artist decided to write a view from his apartment, which was located in Collioure.
Art critics refer the work "Open Window" to the marina genre. However, such a specificity of writing a picture is quite specific. We can see the sea only through open shutters, the artist decided to transfer it with the help of large strokes. In the color scheme, the sea almost merges with the sky. Only blue skies can visually delineate the line, while separating the expanses of water
from the depths of heaven. Looking at the viewer, sailboats appear that sway on pink and lilac waves. Their exposed mast, bright orange-colored, rush up.
The greens that wrap around the window space, flower pots standing on the windowsill, perfectly shade the water peace of the canvas.
Those who have seen how Matisse creates his work recall that black was the most crucial component. The author outlined the window contour to them, making the contrast and brightness with which he had so long sought.
The "open window" is a Fauvism that brings peace and joy. It is believed that it has become a landmark for early modernism.
The "open window" captures the viewer, causing them to experience a little excitement. Matisse managed to ensure that viewers did not pass by his works, but stopped, keeping their eyes on them. The painter managed to create such a masterpiece that the picture gave the impression of a lively, filled with feelings.





(
2
votes, average:
3.00
out of 5)
Description of the painting by paintings by Henri Matisse "Open Window"