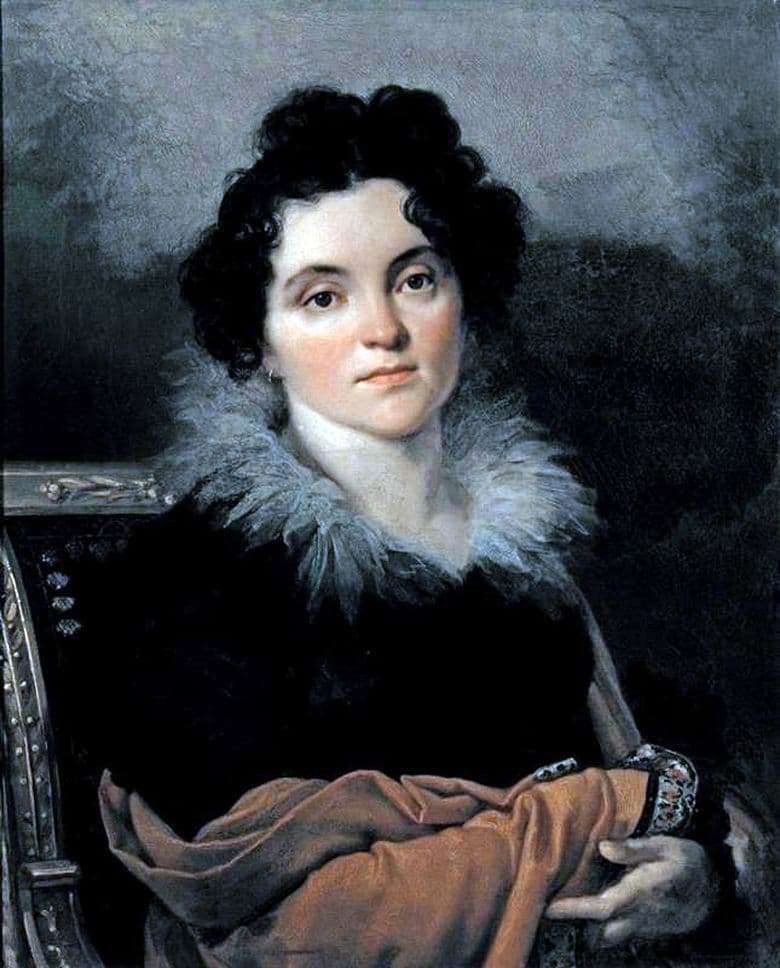 Dated 1814, materials – oil on canvas, size – 71 by 57.8 cm. Has a vertical location, located in the State Tretyakov Gallery, Moscow, Russia.
Orest Adamovich is a magnificent master of romanticism and academic style, whose canvases were put on the same level as Rembrandt. His manner of writing is well traced in the portrait of Darya Nikolayevna, the spouse of Vasily Semyonovich Khvostov, the first general of the city of Tomsk, to a separate canvas made in similar shades that is less well known to the general public.
The color scheme of the picture is rather restrained, but with a few bright accents on a beautiful and feminine face, on crossed arms, attracting attention to a calm and noble pose, and giving an orange shawl to the image giving a bit of home comfort. Her carrot-like color shines on the delicate cheeks and lips of a woman, making the matte skin shine even more, the contrast is enhanced by black hair and the transition from dark to light in the background.
The portrait shows striking attention to detail, which at first is not so obvious. But it is worth taking a closer look, and now the back of an ornate armchair gradually reveals an aristocratic life, an oriental pattern embroidered with a silk thread runs along the edge of the cape, a translucent air collar of the dress flies, curly hairs, plays a highlight earring, eyes sparkle… It all means serious hard work which the artist spent trying to convey and capture for future generations the beautifully clean image of a kind mother of a large family, maybe a little tired, but ready just about to smile charmingly. This impression does not in the least spoil the dark colors of the background, on the contrary – they create an unusual lightness, liveliness and make you want to know the story of this woman.