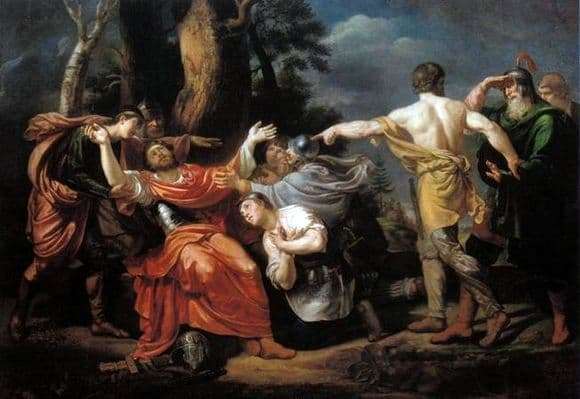 Orest Adamovich Kiprensky – the famous Russian portrait painter, talented draftsman and professor of the Academy of Arts. One of the largest domestic masters of the romantic portrait began, like all students of the Academy of Arts, with historical painting.
In 1805, the artist is tasked with writing a large software work on the theme of Grand Duke Dmitry Donskoy, represented in the battle with Mom, when, after winning the victory, the Prince dies among his warriors in the grove. The artist, then still a student, does an excellent job with the assignment and gets a gold medal of first value for the painting, which then allowed him to work a lot abroad.
Plots of national history have always been part of the program of art education. Kiprensky depicts the scene in the best traditions of the Italian and Flemish schools of painting – large-scale, colorful and dynamic.
The Grand Duke, whose figure is located slightly to the left of the center, throws his hands into the sky in a prayer movement and thanks Heaven for the victory he has provided over the enemy. Around Dmitry Donskoy gathered his warriors, members of the bloody battle.
Surprise and joy from the news that their leader is alive is read on their faces. In the background you can see the landscape – an important part of the classic picture – and the dark clouds in the sky sound in unison with the mood of the picture.
Coloring works plays one of the most important roles. The harmony of bright colors, blood-red and emerald-green shades are combined in an unknown color play. The sharp movements of the characters, the clear drape of their clothes, the eye-catching tones and, of course, a well-grouped composition – all this helps to perceive the picture as one clear action, a performance that came down from the stage.
Kiprensky created a classic, made in the best academic traditions, the product and was rightfully awarded for it.