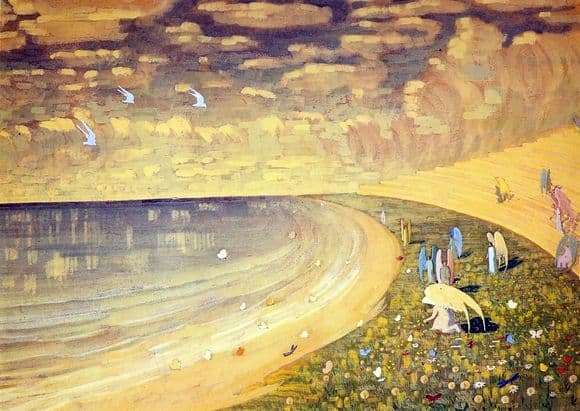 Mikalojus Čiurlionis is a famous Lithuanian artist and composer. The picture opens before us a beautiful world unknown to us, shows the viewers all the beauty of the other world. This work is filled with purity and beauty, the unusual landscape and characters depicted on the canvas. Čiurlionis combined his talents in painting and music and embodied all his dreams and fantasies in the picture into a single whole.
The artist sees the world quite differently, not like all people. All fans of the young artist probably know that he first studied music, and then later became very interested in painting, so we dare to notice his artistic and musical skills go hand in hand while creating such masterpieces.
Čiurlionis seeks to picture sounded like musical notes and colors obeyed musical rhythm. The picture is mainly written in the orange-gold gamut, looking at it, it seems that it warms us to the depths of the soul. The author shows the audience not our real world, but another quite mysterious and fantastic, in which you can see a lot of light and purity.
On the canvas, the artist clearly outlines even the smallest details, such as leaves of grass, petals of daisies, dandelions and many other colors, as beautifully draws colorful butterflies circling over the clearing.
Beautiful angels roam the clearing, without worrying about anything, their souls are pure and beautiful, near the steps leading directly to God. The blue sky is covered with white clouds, white doves gently fly around, the calm sea washes the shore, it reflects the skies.
Looking at the strange-shaped clouds and the sky that has broken through them, it seems that all this is calling us back to the old everyday life, for a moment you want to return, but then looking at the steps leading up, you realize that there is no life more beautiful and calmer than here.