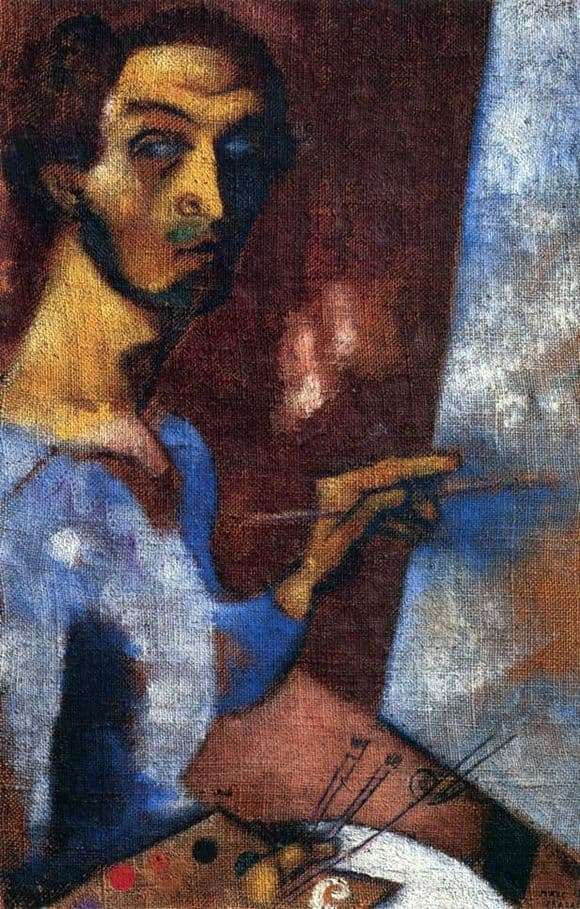 Several portraits were painted by the artist Marc Chagall in 1914. One of them – "Self-portrait with easel." Before that, from the age of 19, a Russian painter with Jewish roots had studied the basics of visual arts with many masters. From Vitebsk to St. Petersburg, in the cradle of new directions – Paris, the young sculptor forms his own style. It was based on cubism, expressionism and primitivism.
"Self-portrait with easel" creates the first impression of mystery. Half-turned artist turns his attention away from the easel.
The enthusiastic work was interrupted: at the host colorful stains were full of color, the brush in her hand stopped in zero gravity, the other hand firmly holds the palette filled with different colors. The plot is laconic and simple. But the performance is so individual that it is instantly remembered and does not allow attention to distract from the unusual technique of the artist Chagall.
Household story from the creative life of the author executed in contrasting light spots. The shirt and canvas on the easel are bluish-white, similar in texture to the cloudy sky. The face is strangely yellowish with brown and green shading. Even on a dark brown wall you can see a white spot of light.
Some fragments of the picture is clearly of a cubic style. The palette with evenly defined circles of scarlet, black and green paint has a square shape. Her corners are pretty rough. Linear brushes drawn by a number of brushes are careless in the style of primitivism.
The absence of the iris in the white eye sockets of the portrait looks frightening and meaningful. The incomparable unique style of Chagall in the reflection of reality does not make anyone comparable with this originality and takes him on a long journey through the back streets of the artist's mysterious soul.
Seeing his self-portrait, there is a desire to get acquainted with the rest of the master's works and confidence is born in their uncommonness.