Description of the painting by Konstantin Somov "Lovers"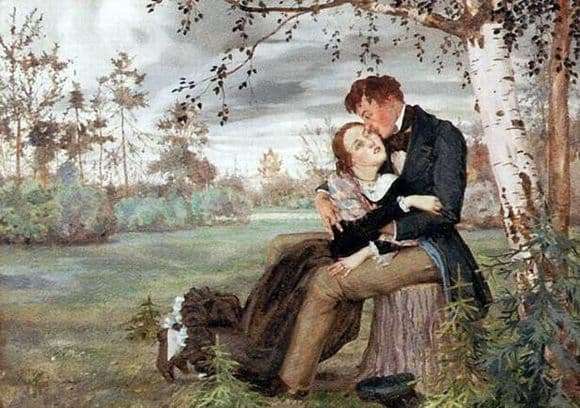 Konstantin Somov was born in the family of the art historian A. I. Somov. The artist's house was filled with all kinds of paintings, the whole family breathed art. Konstantin Andreevich will begin to receive education in the graphic arts field at the Academy of Fine Arts, but in 1897 he will leave for Paris to study art monuments. In his early paintings can be traced Russian symbolism, sophistication and reverie, which will become the hallmarks of the style of the artist.
As a member of the World of Art community, the artist was widely erudite in a variety of cultural issues. For five years, he was listed as art director of the magazine, leading control over the selection of illustrations and other design issues. By the way, it was Konstantin Somov who initiated the beginning of Russian modernism in the graphics and design of theater programs.
Portraits and genre scenes on the plot lines of court balls and masquerades
of the 18th century brought him fame as a painter. Here, the taste for detail, the refinement of colors are honed; however, along with this, the grotesque and conventionality of characters are traced. Huge contribution of Konstantin Andreevich in the scope of book illustration, where he took an active part in the design of many magazines on the visual and applied forms of art.
In particular, Somov discovered and became the founder of the nude ban for Russia. By the way, the painter's personal attitude toward him was demonstrated on the verge of satire and a sensual smile. The painting "Lovers", written by him in 1920, absorbed the main and favorite techniques of the master. Eroticism is barely perceptible here and, in general, the whole love scene is theatrical and unnatural.
The background for the hugs of lovers are the motives of the ancient Russian landscapes. The brokenness of figures, frozen in the pose of passionate embraces, artificial and artificial expressions of faces of lovers, give the impression of vaudeville heroes. Unlike the artist's early works, this village scene is also filled with irony.
However, there are no colorful and rich exquisite fabrics, idealistic and dreamy. The paints are cold and all the colors are as if gloomy, as before a thunderstorm. Somov and here, presumably, applied an experimental technique – the oil was applied to the paper, pre-pasted on a metal plate. Thus, the canvas created a special effect of refinement.
A landscape with thin branches should set up in a poetic way, but excessive poisonous tones reinforce the feeling of depression and the inevitability of separation and regret hanging over the pair. Somov invariably acts as a puppeteer, turning the heroes of his scene into marionettes. He is trying to express in this way the drama of life, emphasizing how much in the world remains beyond the control of the will of man.
Description of the painting by Konstantin Somov "Lovers"