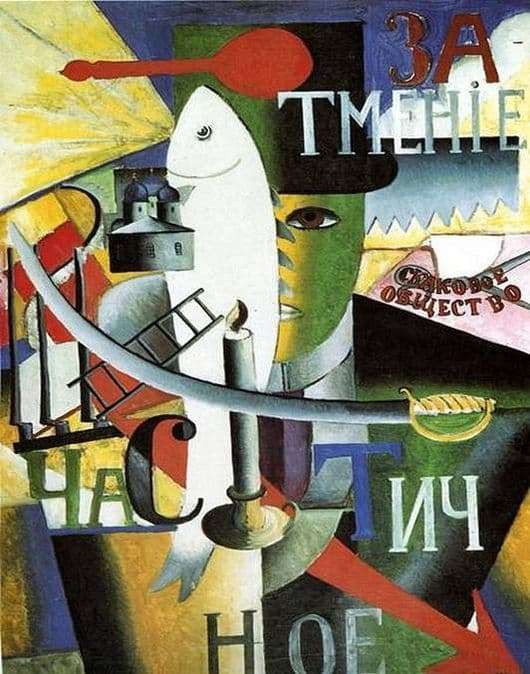 It is sometimes even harder to understand avant-gardists than surrealists, and the interpretation of their work can be found in great numbers, and you never say who is right in it. What did the artist want to say? Did he rely on biblical texts? Did he laugh at something, or, on the contrary, was deeply serious when creating his picture?
Unanswered questions that no one else can ask.
The "Englishman in Moscow" was created in 1914, on the threshold of all conceivable revolutions and wars, shaking up Russia and turning it inside out. He rushes up vertically, the center of his composition, her support is the cross. Fish and saber, saber and candle are recast. Crosses form the letters "t", the cross can be seen, peering into the figure of a man, which seems to serve as a background for ordinary, recruited, it seems, without any logic of things.
Equally important are light and darkness, fighting in the picture for supremacy. The Englishman's face is in darkness. Pure rays of light pour out from behind the head of the fish.
Objects in the picture seem to be selected without any sense – a candle. Shining white fish. Saber. A wooden spoon – these spoons were worn by futurists in their buttonholes, going to the evening promenade, with the intention of shocking foreigners. Stairs. Inkwell. Scarlet arrow. Sign shop or store.
You can search for a deep symbolism in them, you can look more simply – everything is mixed up in the picture, as in the head of a person who first arrived in a big city. A Cossack with a saber passed by – and now, the image of the saber is already spinning in his head, does not want to retreat. It smells of fish, appetizing, tempting from the window of the shop – and now, there is a white fish. Someone on a high staircase paints a wall or refurbishes a sign – and the staircase also remains inside.
Moscow is piling on, a wooden spoon in the buttonhole of an oncoming passerby attracts the eye. A strange sign is remembered. Head spinning.
However, it may be that the candle symbolizes internal burning, without which there is no reason to live.