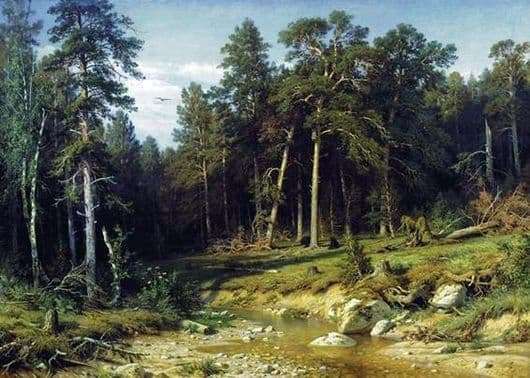 Painting "Pine Forest. Mast forest in the Vyatka province "is one of a series of paintings dedicated to the Russian landscape, the dense forest, the mighty and immense expanses of Russia. The forest looks slightly gloomy, but all this in order to emphasize the depth and richness of the vegetation in the Russian forests. Somewhere in the distance visible symbols of Russia – bears. This canvas reflects the forest, which is located in the Vyatka province. Work done on canvas, oil. Strokes confident and clear, visible, even minor lines that fill the image of the picture with life and inspiration.
The picture is painted in a real way, but the pictured landscape looks quite unreal, as if the forest lives its own, independent life, as if hiding from prying eyes behind impassable thickets. Shadows are very subtly arranged, which gives the picture depth and naturalness. However Pictured bears remind us that this paradise is not for everyone, not everyone can come and feel the harmony of the forest. The water in the river is like a real one, stretch out your hand and take a sip or two of fresh, unpolluted "living" water. Small pebbles and uprooted stumps, long roots that sprouted over the years, roots, leaning grass on the shore, as if asking to get drunk from the "source of life."
And the huge pines, with their fluffy paws, seem to cling to the clouds by chance, showing how big and slender they are. All of them are equal in size and in their desire to reach the sun. Somewhere in the sky one can see the silhouette of a flying bird, it seemed to freeze in flight, spreading its mighty wings to admire the expanses of its natural habitat. The sky is light blue, with gleams, as if evening. This combination of colors in the picture makes you feel the power and scope of the riot of the landscape.