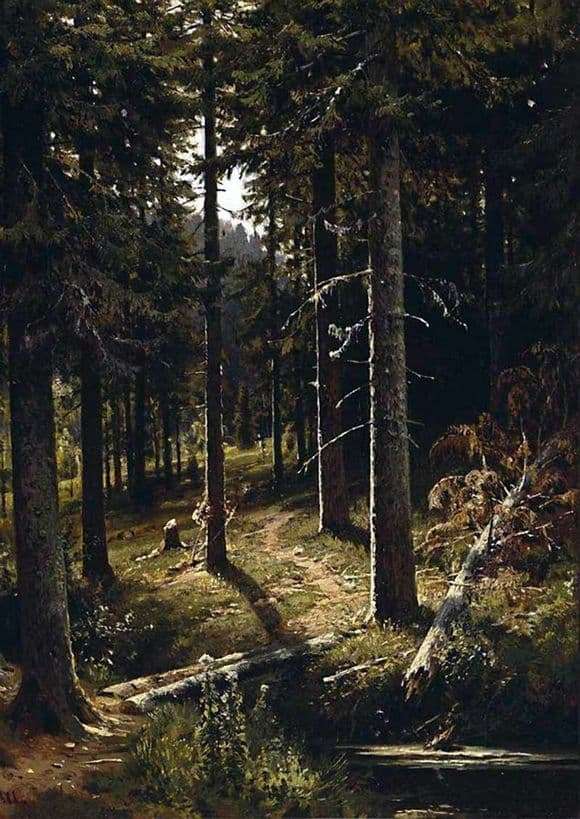 In the second half of the 19th century, Russian painting flourished as a result of the work of a pleiad of brilliant peredvizhniki artists. As in no other country, the famous Russian landscape painters Savrasov, Polenov, Levitan, Aivazovsky, Shishkin make a particularly valuable contribution to the development of fine art.
For all its relative neutrality, the landscape genre, thanks to its great talent and tireless work in kind, made Shishkin a truly legendary painter. According to Ivan Ivanovich himself, Russia is a country of landscapes. Her special national sensuality and anguish towards the epic traditions of folklore led Shishkin to national recognition and a worthy place in the world of visual arts.
Shishkin's landscapes are notable for their incredible realism and image integrity, special subtlety and fullness of the light-air mass, incredibly quivering and aesthetic attitude to details. The color design Shishkin puts into the background, considering it unacceptable to artificially elevate the natural charm and poetry of the plot.
The painting "Forest Landscape", created in 1890, is one of the late works of the artist. It recreates the theme of the mighty pine forest traditionally beloved by Shishkin on a sunny summer day. In the foreground there is a small reservoir, a tree fallen down somewhere in the beginning of summer, because it has not yet fallen away dried leaves, a bush of a marsh flower. A little further you can see a walkway through a stream of two felled trees and a wide path running down the side of a small hill. Such inseparability of nature from man is also a characteristic feature of Shishkin's landscapes, with which he tried to emphasize the importance of a person's constant contact with the environment that gave birth to and nourishing it, their need for each other.
People in the picture is not visible, but their presence is clearly felt in everything. It can be seen how mushroom pickers go with baskets across the bridge, peasants return from the neighboring village, children run to the distant bend of the stream to bathe. And now, involuntarily, you want to breathe in this heated pine air and the smell of forest flowers and sit under a tree on the warm grass, leaning your back on a clumsy resinous trunk.