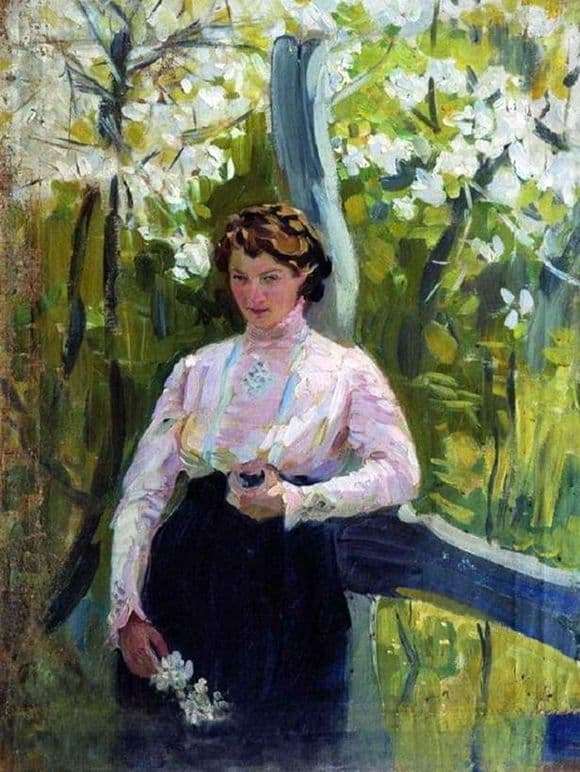 Artist Ivan Kulikov always admired the expanses of our country. Russia, famous for its natural riches, was also a birthplace for a people with a proud and inflexible temper. The traditions of the Russian people, as well as their simple daily life, were an inexhaustible inspirational source of the creative fantasies of the famous painter.
In 1812, the author wrote one of his best works – a picture called "Spring". He considered this time of year the most wonderful. Because nature regains bright colors and blooms after short cold and cloudy days in the spring.
This picture shows a beautiful young woman. She stands leaning on the crossbar of a wooden fence, and looks thoughtfully into the distance. Her face is fresh and ruddy, and thick brown hair is laid on her head with an intricate braid.
The gentle and fresh image of the lady perfectly harmonizes with the blooming green background behind her. Her clothes are elegant and beautiful in those times. The top of her costume consists of a pale pink blouse with a fine embroidery, and the bottom of a fitted skirt of a thick lilac color. In her hand, a woman holds a thin branch of a bird cherry tree covered with small white flowers.
In the background of the picture grow slender trees, the crown of which blossomed in all its glory. Only in one month of the year the bird cherry blossoms – this is a warm and fragrant May. And this means that the canvas depicts a wonderful sunny day, which fell in the middle of this month.
With his picture, Ivan Kulikov was able to convey to the viewer the feelings that fill the soul in the contemplation of natural splendor. Soft bed tones on the canvas are perfectly combined with bright colors, and the dark gamma creates a favorable contrast. The author masterfully depicted the spring atmosphere that transforms everything around. Looking at this canvas, the mood of the viewer unwittingly adjusts to a positive mood.