Description of the painting by Viktor Vasnetsov "Spring-red"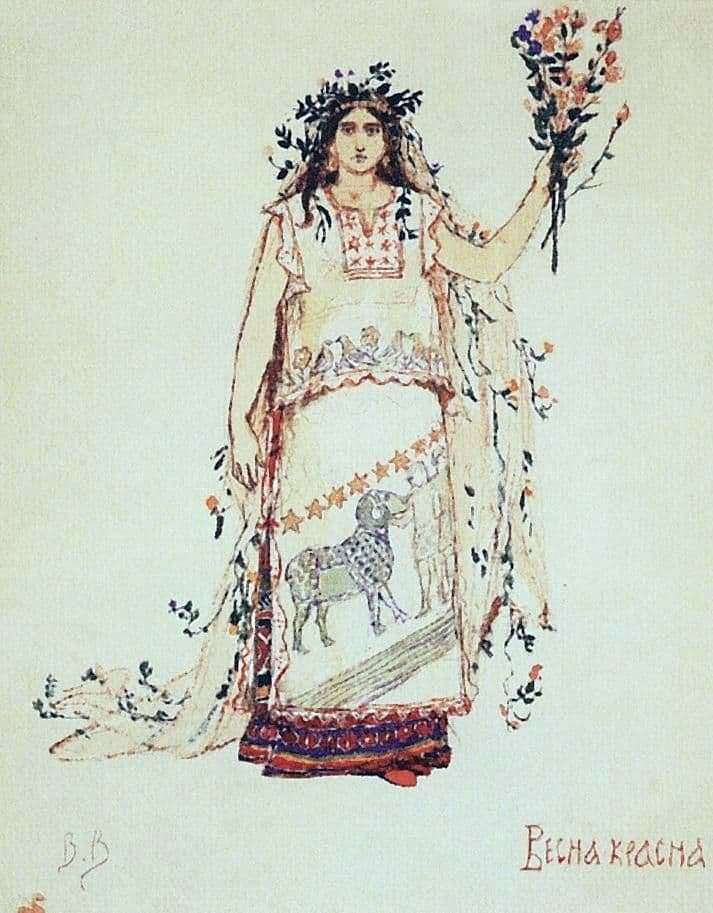 1885; watercolor; State Tretyakov Gallery.
Viktor Vasnetsov, a connoisseur of Russian folklore, a lover of dramatic fairytale plots, appears in an inconvenient inconvenience. The watercolor sketch titled "Spring-Red" is not a separate work, but only a sketch for the artist's costume for the performance of N. A. Rimsky-Korsakov's opera The Snow Maiden.
The musical performance is based on a play by N. A. Ostrovsky of the same name. Perhaps, the deep mythological roots of this work attracted the attention of the famous painter, but in his approach to work one can see the confidence of a knowledgeable master, a deep love of details and a revealed theme.
On watercolor – a woman in the bloom of years, quite young, but not quite a girl. Her full smooth body breathes life force, her face is calm and beautiful, her hair is loose, a wreath of wild flowers rests on them, a light transparent veil falls on her back, also covered with plants. The flower wreath, which a woman holds high in her left hand, emphasizes the triumph of the blossoming nature.
Her outfit is symbolic: a white apron is draped over a colorful, bright skirt with elements of an ancient ornament. On it is a picture of a starry sky, a fresh harrow and two men preparing an ox for sowing. On a blouse with short sleeves, also white, a different kind of embroidery: songbirds were seated to the bottom, heralding the coming of spring, the beginning of the time of laying the next harvest, the fertile summer season.
In the whole pose, in the details of clothes and ornaments, the confident goddess of the blossoming meadows of the bright, fruitful half of the year is visible.





(
1
votes, average:
5.00
out of 5)
Description of the painting by Viktor Vasnetsov "Spring-red"