Description of the painting by Ivan Kramsky "For reading" (1863)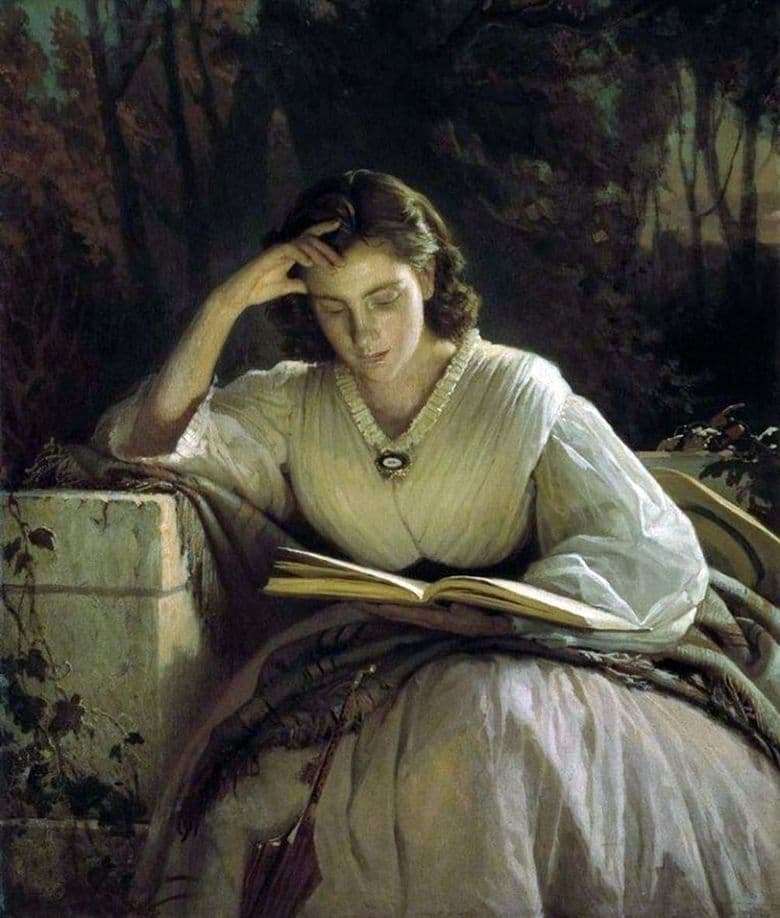 The canvas belongs to the early stage of the artist's work, but already in it many of his distinctive features, which determined the style of the painter in the future, appeared. The portrait depicts the master's wife, whose marriage was prosperous and harmonious. Kramskoy for many years retained a sense of love, respect and affection for his spouse and often painted her portraits.
The canvas depicts a young charming woman dressed in a charming fashionable dress. She is bent over a rather large book, her expression is serious, her posture is free. The heroine supports her head with one hand, gracefully leaning on the railing. Viewers do not see her look, sometimes characterizing a person, but you can determine her character. Kramskoy in the portrait by means of expressive color and light and shade shows her tenderness, sensuality, softness – all those qualities that he appreciated in her. However, the image
does not lose its dignity and spiritual strength.
The composition of the portrait is quite plastic: the main character is located in the garden or in the park on a stone bench against the darkening green trees. The portrait painter seemed to spy on her secretly from her. Her amazing white dress shines as if contrasting with this background, casting the deepest reflections on her calm, inspired face. The artist diligently works out all the details: dark shiny shiny curly hair laid in an elegant hairstyle, expensive brooch on a dress, exquisite shawl, lowered from the shoulders are realistic.
He painted his beloved master with pastel pencils; with the help of this technique, lightness, grace and grace are attached to the picture. The character of the portrait can be called chamber and private. Surprises in the picture of her mood, allowing the artist to reveal the depth of the spiritual life of the heroine. The whole image of his wife imbued with unique refined aristocracy, reinforcing the impression of the portrait.





(
3
votes, average:
4.67
out of 5)
Description of the painting by Ivan Kramsky "For reading" (1863)