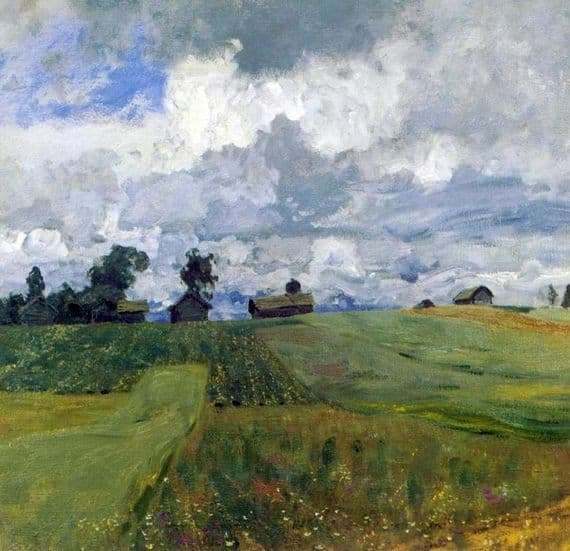 Experts agree that among the last works of the great artist Levitan, you can find such images in which the naked eye can see the love of all living things, the incredible vitality and desire to live, create, work.
In some works, this craving for life was displayed in such an over-expressive form, a special dynamics of the imprinted images, voluminous relief brush strokes, vivid emotions of the composition of the canvas and bright contrasting colorful images.
One of these late cheerful pictures is his work "Stormy Day". Through it, the creator transmits the rapid movement of the life rhythm, urging the artist to apply more and more strokes. On the other hand, the artist reflects in the works the melancholy and doom of death. In his later works the artist very clearly reflects these very thoughts.
According to his canvas, "Stormy Day", it is as if a strong gusty wind is walking, circling empty fields and lonely located houses of local residents. Clouds are gathering in the sky, dense clouds cover almost all of its blue essence. As if a little more, and heavy lead rain will cover the fields. Lonely trees behind the houses, as if rustling and rustling from the windy air. There is bad weather.
It must be said that this kind of work for Levitan was a special rarity. Such art can not be found in his household works of the 90s. Although in his life there had been earlier moments of unbearable despair, silence and inaction.
It was such difficult periods that were especially reflected in the later works of Isaac Levitan. His works have visited numerous Russian and foreign exhibitions. And since 1898, the artist returns to his native school and begins his teaching activities with Serov and Korovin.