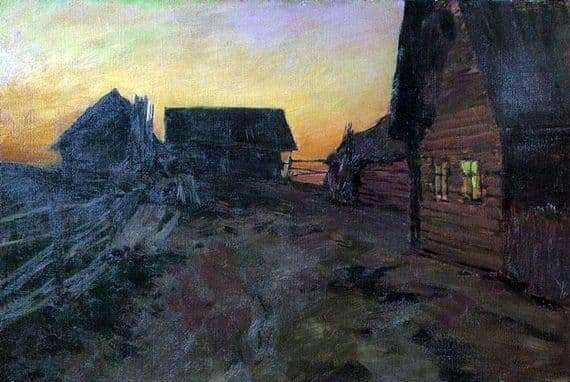 The picture was painted in 1899 in oil on canvas.
Painting style is realism. Genre – landscape.
Levitan left a huge invaluable contribution to art for our country. His canvases are known all over the world. They are studied in schools, colleges and institutes. On his plots said a lot of words and written a lot of prose. Levitan was greatly appreciated and respected by artists. He was described as the best artist, friend, good and kind person.
Levitan managed to portray the beauty of Russian nature as no one else. He was filled with love for the village, churches, simple rural landscapes. His canvases are masterpieces and the creative heritage of our state. Thanks to them, we can not only contemplate the ability and skill of the author, but also plunge into the simple life of past centuries in Russian settlements.
Pictures of Levitan have an incredible appeal, pacify, give food to the soul. To become very sad about the lost times and the simplicity of the life of the hinterland.
Cloth "izba" – this is one of the works of Levitan, which is devoted to almost disappeared life now. The Russian village is dying, which causes great pain and longing. The picture shows village houses. The sun is already setting, and the crimson sunset is losing ground on a stepping night. Light clouds seem to lull the inhabitants of the huts.
In such huts simple peasants lived, whose lives were hard. But, nevertheless, in those times she was kinder and more soulful. The houses are very simple, everything is similar. Levitan loved everything that was associated with Russian nature. Simplicity in the motives and their clarity was given only by the brush of a great artist. Nobody could repeat his level. Many words of regret have been said that Levitan lived a long life. After all, he could write many more masterpieces.
The canvas is stored in the State Museum of Art and History. Nizhny Novgorod.