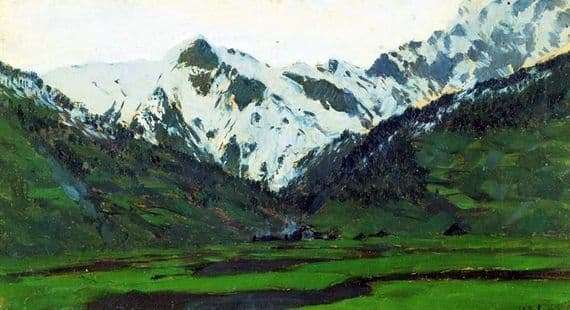 Levitan – a famous Russian artist, was born in a poor family, and spent the entire early period of his life restlessly, in constant anxiety about their daily bread. First, childhood, when in a large family there was always not enough, then training – he was a full-fledged, poor student, stereotypical, and graduated from college without a diploma at all – not by academic performance, but because there were no funds.
He traveled a lot, visited abroad, was a friend of Chekhov and lived an extremely rich life. His painting "Above Eternal Peace" is called the most Russian of Russian paintings about Russia, and the artist himself is called "the mood landscape", because behind each of his works one can see a living, darting soul, deprived of peace.
"In the Alps in the Spring" – one of his landscapes, written in his traditional manner of lightness and liveliness. High mountains seem harsh, propping up the sky. Upstairs there are peaks shining with snow, with occasional balust-spots of greenery, and below there is a valley full of greenery with lakes and a tiny hamlet clinging to the slope of the mountain.
Above all this – the sky is white, like snow on the tops, and only somewhere on the far slopes are visible drops of gold – the rays of the rising sun. This spring is alpine, when everything is covered with herbs, when the trees sprout leaves, when the thin cold air is filled with the smell of flowers and juices. It can be drunk like a good wine, and the valley is like a cup full of them.
The whole picture is a mood, like all the landscapes of Levitan. Hope for the future, waiting for the best is like a frozen human soul, the mountains are full of snow, but spring is like love or happiness, and the snow is melting, exposing the shining green.
The colors of the paintings are very vivid and vibrant – the contrast of white and radiant green is striking.
At the same time, by searching, you can find a variety of shades of green – and dark, and light, and warm, and cold. Snow is running from the mountains. Spring.