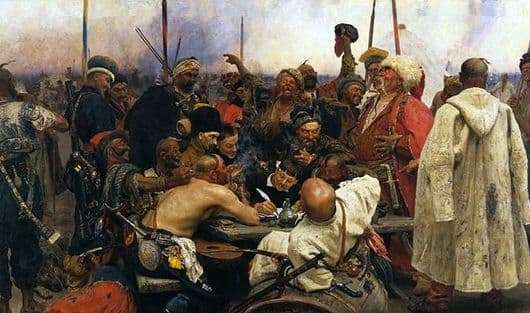 The basis of the painting by Repin was the historical event of 1676. Then the Cossacks of the free Zaporizhian Sich guarded the country from the Turks. Sultan Mahmud IV sent a letter to the Zaporozhye Cossacks, where he offered to surrender to him without resistance. Wanting to frighten the Cossacks, the Turkish sultan gave many of his titles in the title of the letter. Cossacks only laughed at the pompous style of writing. Well, they wrote their very caustic answer to the Sultan.
The picture came out dynamic, but its composition at the same time seems balanced. In the foreground of the canvas are Zaporizhzhya Cossacks, who gathered at a table, hastily gathered together. The artist somehow "cuts off" some of the figures, allowing the viewer to "mentally push" the picture panorama. Bonfires and a tent camp are visible in the background.
The picture does not find the main character, many Cossacks are represented here, and each of them is different in its own way. Each one was written out with such care as if the artist created only his portrait.
The Ukrainian pandora draws attention to their weapons, costumes, pipes and flasks perfectly, and, of course, such a picture cannot do without popular humor! The brave Cossacks laugh heartily, anticipating how the Sultan will read their letter, how he will become enraged by their dashing antics! And that they have these titles of the sultan, if they have repeatedly smashed his troops.
Comrades in arms amicably compose their message. The clerk smiles mischievously and, squinting, brings out funny words on paper, which the other Cossacks promptly suggest to him, rejoicing in their well-aimed expressions. The emotions experienced by the characters in the picture seem to spill over to the viewer. It seems that the canvas sparkles with impetuous fun. And in each of the characters, you can guess the prowess, and the heroic spirit, and independence. This is the great cohesion and strength of the Cossack partnership.