Description of the painting by Georges Seurat "Circus"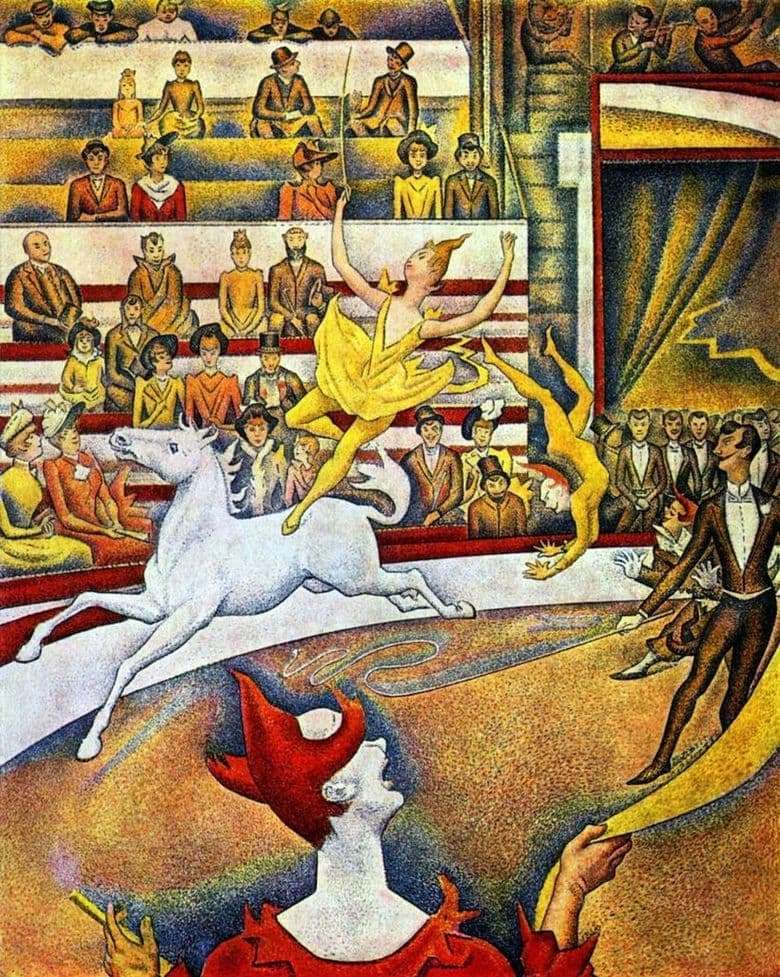 The picture "Circus" Seurat did not manage to finish on its own. Only a little more than a week after the exhibition began, and suddenly the message – the artist died. The neo-impressionist Maximilian Luce began to finish the canvas. The exact cause of death Seurat did not find out. According to the diagnoses made by the doctors, he died from several diseases (diphtheria, infective endocarditis, pneumonia, meningitis).
The composition of the painting "Circus" is not as complicated as that of Kankan. The whole composition is mathematically exact – each point in the picture has its own place. All the characters (there are more than forty of them) were placed according to a strictly marked blue paint grid. In order to accurately convey the atmosphere of the circus, Seurat came here every day, making a variety of sketches: horse riders, clown hats, which seemed to him funny, Monsieur Luail.
The clown figure that we see in the foreground is very similar to the contrabass player from Kankan. At first glance, you can decide that the clown is the organizer of a circus performance, on the other hand, we can take him for an ordinary viewer. A gymnast performing acrobatic stunts on a horse, an acrobat – these characters manage to create a feeling of enthusiasm, elation.
We will not see in the pictures Seurat movement, the author has always tried to depict only one, a certain moment of movement. As viewers, we can recognize other characters in the paintings of the artist.
A characteristic feature of the canvas is that the artist tried to confine himself to only 3 colors – blue, yellow and red.





(
2
votes, average:
4.50
out of 5)
Description of the painting by Georges Seurat "Circus"