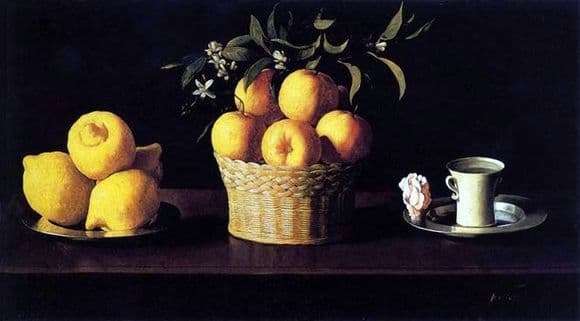 "Still Life with Lemons and Oranges" was written in 1633 by Francisco de Zurbaran. Most of the collection of his paintings is devoted to scenes of monastic life, his favorite genre was still life.
In this writing style, one can clearly see the unique ability of the Spanish artist to see in the prose of life a significant and sublime, deep interest and affection for the land and things around him. Still lifes are filled with harsh conciseness and amazing harmony, giving ordinary things power and solemnity.
The considered still life consists of three groups of objects – lemons in a plate, oranges in a small basket and an elegant cup on a saucer with a rose. Their strict order, lined up in a single line – one of the distinguishing features of the manner of writing Zurbaran. Thanks to this technique, he achieves volume and makes paying attention to each object of the composition. Another important role is played by the play of light and shadows. With the help of bright color contrasts the volume and color are transmitted.
Much to our surprise, many experts see in this picture an allegorical version of the visualization of the image of the Holy Trinity. Oranges and water in a circle are associated with the innocence of the Blessed Virgin, and a rose devoid of thorns is a symbol of immaculate conception. The rose is a symbol of the immaculate conception. This theory is quite the place to be, taking into account the religious education of Francisco de Zurbaran. In the history of the canvas can be traced, and other unusual nuances.
For example, contrary to the name of the work, it does not depict lemons at all, but citrons, differing from the first dense tubercular skin and large size. The unexpected discovery after one of the radiographs of the image was the presence of another saucer at the early stage of the creation of an image work. It had to stand between citrons and oranges, and was filled with potato pieces in caramel, the traditional dessert of those times.