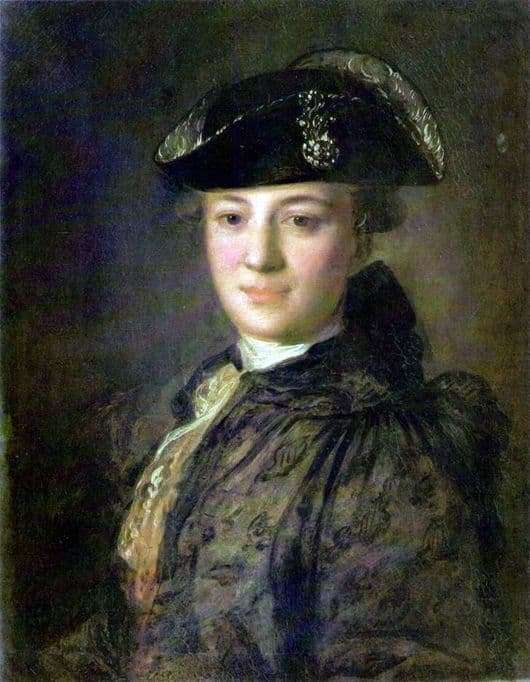 One of the most mysterious pictures of the century. Many experts and critics have long discussions about the person depicted on the canvas. Some are inclined to believe that this is a young Count Bobrinsky, known for his deeds not only in military campaigns, but also in political reformations. Son of Catherine II and her lover Earl G. G. Orlova, famous commander.
Other specialists, after conducting a series of analytical works and examining the canvas through a radiograph, came to the conclusion that initially a young girl was depicted on the canvas. A little later, another portrait was put on top of it, but leaving the face untouched. The costume became masculine as a masquerade. Perhaps the customer decided in this way to update the portrait, retaining the main part. According to one theory, this is the first wife of N. E. Struysky – O. S. Balbeskova.
The price of this picture is that which refers to the late period of the artist's work. For the connoisseur of beauty, this is a great loss, since the last years of his life became the peak of his creativity and development. The use of completely new expressive techniques, which the master did not dare to do before, adds a special grace and beauty. The method of applying smears becomes more concentrated and dense. There is a clear outline that makes the forms more expressive and clearer. Sharp transitions of shades in combination with harmony give the canvas a unique appeal.
The most popular version is Princess Golitsyna, from whom Pushkin took the image of an old woman from his work The Queen of Spades. A confident woman is looking at the viewer. The pose betrays the nature of self-willed and selfish. Pursed lips seem to show arrogance and pride, penetrating eyes are looking for some kind of trick in a person. During his lifetime, the prototype was distinguished by a strong character and domineering kind, wit and the ability to single out the main thing were made by the young lady the favorite of the palace.