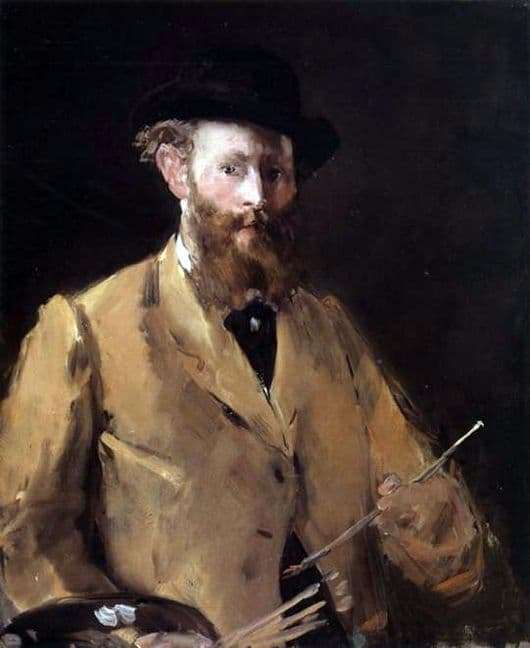 This canvas seems to have been written before Manet suffered a trauma on a bicycle, which led him to rheumatism, and then to the amputation of his leg. The terrible fate of this artist: he was hated by the critic, he was despised and laughed at by the visitors of the salons, where he demonstrated his works. Finally, the disease actually took time away from work. In addition, the artist has managed to live at a time when France was simply in a fever from the abundance of fateful events.
But the artist almost did not intervene in politics. Although sometimes it was necessary to participate in revolutionary activities. And yet, despite the scrape, he managed to draw. And he worked a lot. Then there was impressionism, and then again there was a search for his style. It is for these searches and compromises that the critic has finished him off. Even sick.
On the self-portrait, everything is just beginning, still the first beginnings of future disaster. And it is noticeable – thinness, a certain alertness in his eyes, but still his main "tool" – brushes – he holds tightly in his hands. It will then be difficult for him to hold the brush in his hands and draw, over the pain. This is then, being completely sick, he will be handed
The Order of Honor will be recognized as the greatest artist in France. And when he does not, then all artistic Paris will come to his funeral. Everyone will be there: those who hated him and those who sympathized with him, and everyone will mourn his talent. But it will be then when he himself does not hear it.
Strange such a pattern: a talented person is alive – we face him in the dirt and throw insults as soon as he leaves – we recognize his talent and say how sad it is that he left us so early. And this is not a purely Russian "tradition." This came from Europe, the case of Mane is a good example.
A portrait of this superfluous reminder to everyone: "What we have, we do not appreciate. And we lose – we pour tears "