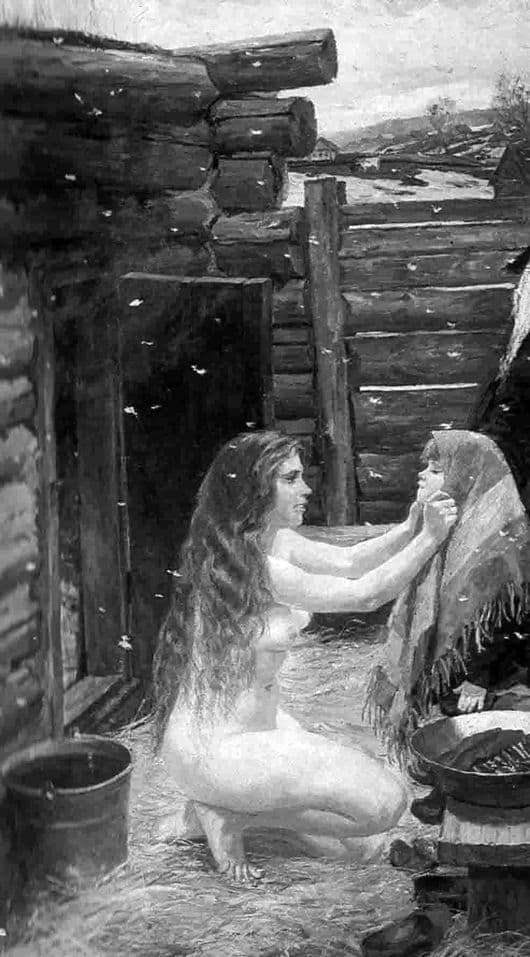 The canvas "Spring" was painted by Plastov in 1954, during the "Khrushchev Thaw" period. Then the censorship weakened a little and the criticism that fell on the defiant canvas was not so sharp. Modern society with prejudice reacted to the work of the artist, calling it too vulgar, because the provocative nude woman is right in the center of the canvas.
This bold decision of the author was called an out-of-date look at art, which made him very sad. You can see that the picture depicts a waiting room of the Russian hut, the entrance of which is laid with golden straw. A naked woman with long wavy hair came out of the bath. She covers a little girl from the snow with a big gray scarf. The girl obviously does not want to hide her head under a stiff gray cloth; she wants to feel the touch of light spring snow. The girl's body shines with purity this dazzling whiteness does not allow the observer to look away from this captivating spectacle.
We do not feel embarrassed, considering her figure, she is so brilliant and devoid of any blemish that it seems that she is dressed in long white clothes. In her clear gaze there is goodness and peace. Thick hair the color of straw gracefully flow down your back like a divine golden halo. This beautiful woman with her charm personifies the coming spring, the prosperity of life and the coming fertility. Her light blond curls symbolize their native land, awakened from a winter sleep, ready to take in new seeds and grow a rich harvest. Spring nature as if welcomes its beauty with the help of the last snowfall. She gently lowers the snowflakes around the girl.
They lie quietly nearby, but do not touch the young body, so as not to disturb its charms. The picture has a unique harmony. The artist was able to successfully combine the dark gray wood colors and warm hay tones against the background of a frosty spring sky. He skillfully depicted a little girl wrapped in a winter dress, and the subjects were villagers.