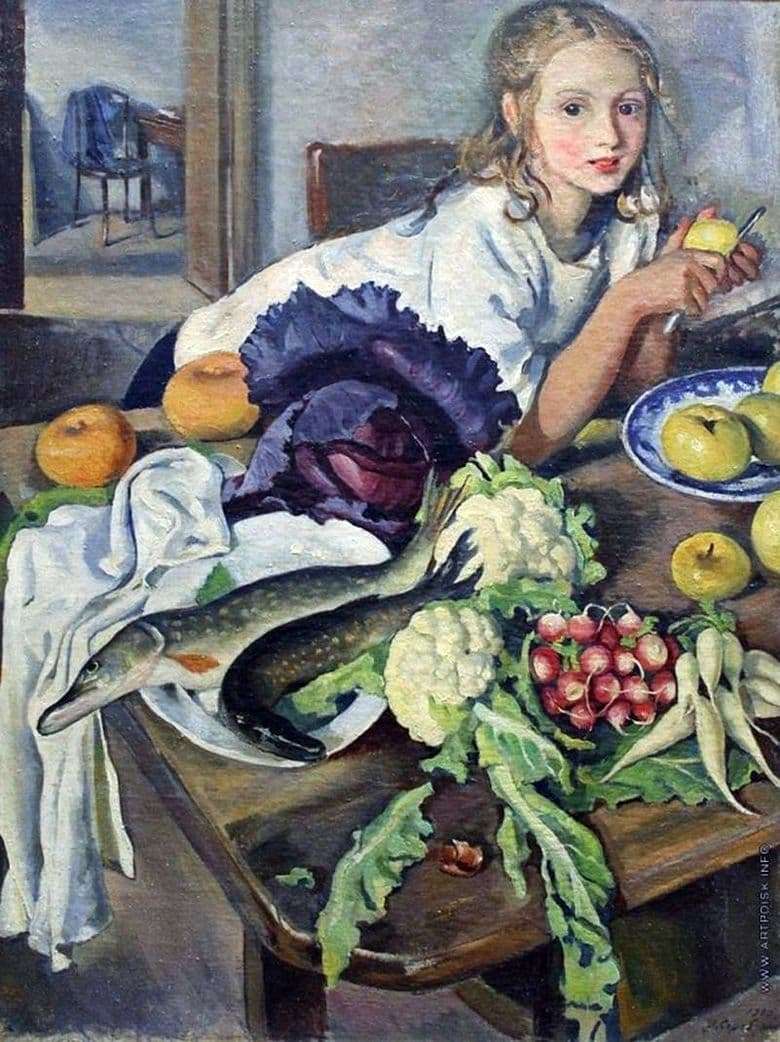 Most often, Zinaida Serebryakova portrayed her youngest daughter Katya in her works. Despite the fact that the artist had three more children, it was Katya who was of particular interest to the master.
In this paper, we see a girl about 11 years old. During this period of her life, Katya went to Paris with her brother, where their mother already lived. The little girl noticed that her mother practically does not eat anything, because she does not like to devote time to cooking. Therefore, Katya decided that she would take on this mission. The girl often cooked for the family, and apparently, this is precisely the moment captured on the canvas.
The girl is dressed in simple home clothes. She is wearing a blue dress and a white shawl that completely covers the back of the child. The artist paid special attention to drawing Katy's face. The picture shows a girl with large brown eyes. When you look at the canvas, it is the eyes that catch the eye. Deep, almost black. The girl smiles slightly, so she opened her mouth.
Often, artists tend to embellish portrayed, but Katya is depicted very naturally and naturally. She leaned slightly on the table with her hands. The child's hair is disheveled: she pinned them at the back of the head, but the strands still broke out of her hair. Now the sloppy curls fall on the shoulders and frame the girl's face. Thanks to this detail, the image turned out very fresh, natural. There is no pretentiousness or deception. We see the most ordinary child who runs through the streets, interferes in the house. She is young and energetic.
On the table we see various products from which food will be prepared soon. There are two small pikes on a plate, next to it there are two cauliflowers, a bunch of radish and a white root. There is also a plate with large juicy apples. The girl took one fruit and began to eat it, cutting off the slices with a sharp knife.