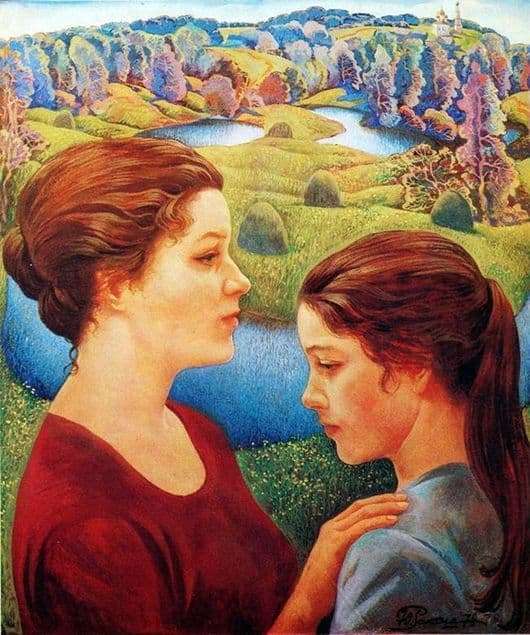 "Continuation" is not only the name of one of the paintings of Yuri Mikhailovich Raksha. Through all the work of this artist is the thread of continuation.
Like many other paintings by Raksha, "Continuation" is not very complex. A young woman and a young girl stand in profile towards the viewer and face each other. There is a clear resemblance in the faces, t. ch. There is no doubt that this is a mother and daughter.
The head of the girl is slightly lowered, she is clearly upset about something, and her mother soothingly laid her hand on her shoulder. In the eyes of a woman, sadness is also readable. What was she thinking about? The fact that the life of his daughter will still be a lot of grief or something else? It does not matter. It is important that life does not end and that there is a continuation, there is a continuity of generations.
This idea emphasizes the background, which depicts the figures of heroines. The artist himself called such backgrounds in his works "the theme of the Motherland". The autumn landscape emphasizes the sadness of the mother and daughter, but autumn is only part of the life cycle… At the same time, bright autumn colors give reason for optimism and somewhat soften the minor mood of the picture.
In general, Yury Raksha paid special attention to the backgrounds. In his opinion, the whole space of the picture had to be filled and each, even the smallest element, had to carry its specific meaning.
In Soviet times, the picture was painted at the height of the era of socialist stagnation – in 1979, faith in God was not welcomed, and it is not known for certain how the artist treated religion. He himself often said that the continuation of his soul is his paintings. But, whether he intends to, or intuitively, he placed in the upper right corner a distant silhouette of an Orthodox church. And this symbol of Russia gives the canvas a special spirituality and deep philosophical meaning. After all, nothing ends, everything has its continuation.