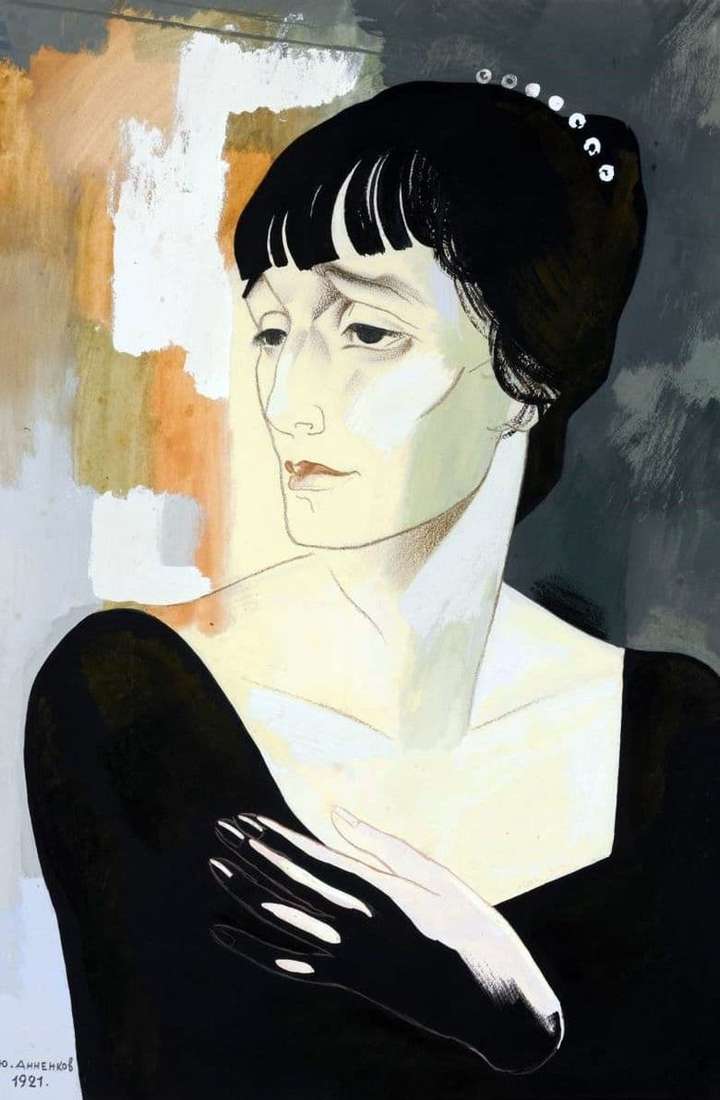 Anna Akhmatova is a great poetess and just a woman with an interesting and sad fate. Her poems are still very popular, moreover, and despite the fact that they were written in the period of the strictest law on the press, and in the 20s they reflected the whole essence of that modernity – which later became the imposition of a tacit prohibition. Probably according to this, Akhmatov was so fond of artists, they all wanted to capture in their paintings the symbol of that, in their own special era.
Annenkov Yu. P. was no exception. In 1921, in Petrograd, in a cozy house on Kirochnaya Street, he immediately draws 2 portraits of Akhmatova: one made with a pen, the second with gouache. There are also differences in the fact that the colorful portrait depicts a writer to the waist where she stood in a semiprofile with her hand gracefully on her chest. Her large and expressive eyes seem to be a mirror of the soul – they tell us about the sadness this great woman felt in those years when the portrait was painted.
Annenkov portrayed her exactly as she was remembered by all her contemporaries – beautiful, stately, voluntarily and always a little saddened by something. Later, the artist admitted that at the session Anna Akhmatova was very patient and calm, they talked about something completely innocent and narrow-minded, in general about anything.
Evgeni Zamyatin at one time gave this drawing a very interesting characteristic, he spoke more about her eyebrows than about the whole portrait as a whole. "They are light as clouds," Zamyatin wrote, but it is also common for clouds to cast shadows. And Annenkov himself spoke about her – "a sad beauty who seemed to be a modest recluse, dressed in a fashionable dress of a social woman".