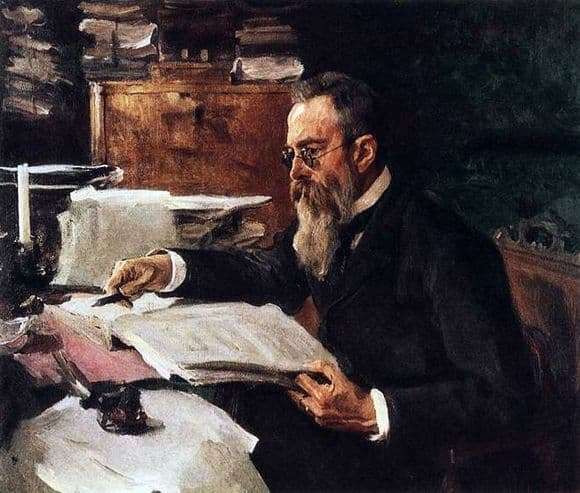 In 1898, the renowned composer Rimsky-Korsakov entrusted himself to write to the recognized master of the portrait, V. A. Serov. The artist always with a special thrill was taken for a new job. His models are not only well-known relatives and comrades, but also in a large number of people are famous, mysterious, inaccessible far to the first meeting in an art studio.
Connoisseurs of creativity Serov recognized such a feature of the talented portrait painter: he painted on the canvas the true character of a man without embellishment. So sometimes it was scary to pose for the artist, because the portrait will reveal all the hidden features and excitements of the soul, the whole inner life.
Like readiness for confession was the decision to become a model for paintings by Valentin Serov. In this magnificent property his genius is expressed. Therefore, the number of people wishing to get a picture of their own nature has not decreased.
"Portrait of Rimsky-Korsakov" – a medium-sized canvas, the technique of execution vaguely reminiscent of the impressionist style. The color scheme is muffled. The number of bright areas on the canvas is four times smaller than the areas of darkened, covered with chaotic coarse strokes.
The dark brown color of the furniture, the dirty green tint of the wallpaper, the dark gray stern jacket on the figure of a man of respectable age sitting at the table… And only three-dimensional stacks of sheets laid out on the table and the cabinet shine with white light.
Opposite the table one can guess the presence of a window that was not included in the composition of the picture. The afternoon light is devoid of sunny yellow highlights. The weather outside is rather cloudy, alarming. The composer is serious, thoughtful, focused on his work. With his left hand he holds an open manuscript, with his right hand he aims to make additions to the work.
The posture of a slender man is straight, collected, intelligent face inspired. Body traits and facial expressions describe the character of Rimsky-Korsakov – strong-willed, confident and hardworking.