Description of the painting by Orest Kiprensky "Portrait of Davydov"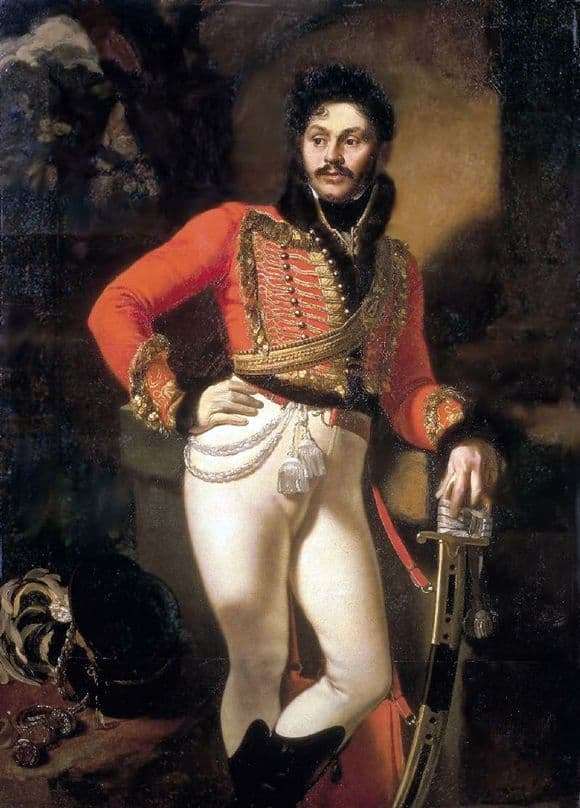 Orest Adamovich Kiprensky painted a portrait of Davydov in 1809, when the war with Napoleon was just beginning. This picture is a reflection of the poetic cult of the brave and strong hero that prevailed at that time, ready to give a soul for the Motherland. The portrait is associated with Denis Davydov because of his fame, although it follows from the signature that this is Ev. V. Davydov, the less famous brother of the poet.
The work itself is a ceremonial portrait of a young and dashing hussar with the rank of colonel. He is drawn to his full height, his posture is careless and a few pictures. His costume is a red hussars uniform, white leggings and low boots. The shako is removed from the head and lies to the left of the hussar, and the saber is used instead of the support.
The colors with which his costume was written out, the gloomy pre-storm landscape, against which a hussar stands, only reinforce the impression of the character of the picture – this is a brave warrior, a man of duty and a romantic dreamer. The face of the hussar is courageous and spiritual. Unlike the military portraits of other painters, Kiprensky does not focus on the expatriate character's character, but focuses on revealing his personality.
Art critics still break their spears about this portrait, who in fact is depicted on it – the famous Denis Davydov or his cousin Evgraf, who was also one of the heroes of the war of 1812. Both versions have their supporters. The first version is supported by the fact that Denis Davydov's sons called this work a portrait of his father and asked the art academy to allow him to take a picture.
Some of the researchers are of the opinion that the hussar depicted in the picture is a collective image of a Russian officer of those years, the hero of that turbulent time, which Denis Davydov was actually.





(
1
votes, average:
5.00
out of 5)
Description of the painting by Orest Kiprensky "Portrait of Davydov"