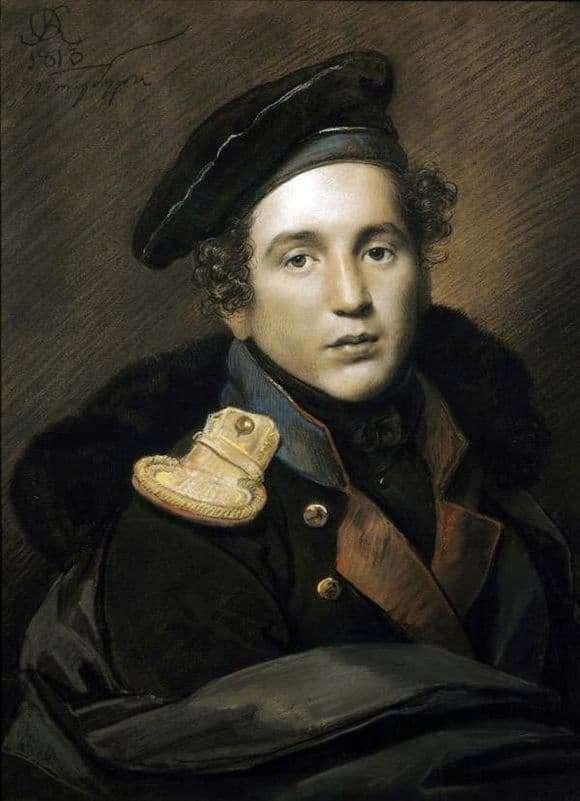 Kiprensky is known to many admirers of the fine arts as a magnificent master of portraiture. Orest Adamovich wrote many important people from the imperial nobility and the highest circles of literature. "Portrait of Venison" in 1813 – the image of the image of one of the most prominent organizers of cultural life in St. Petersburg. This influential person had a personal salon where metropolitan artists met. In addition, he was a writer and artist, a scientist in the field of archeology and a statesman.
The artist Kiprensky writes A. N. Olenin in his well-designed and recognizable style. In the atmosphere of the canvas captured a touch of romanticism. The uniqueness of the named Russian painter is in the ability to combine in one portrait a mixture of opposing genre directions: parade, personal and official images.
Looking at his Alexey Olenin, we notice the official character of the clothes, the elegance of the portrayed manners. But he did not bypass the character's soul world. Glittering look thoughtful and detached. Facial features, noble and calm, blend harmoniously with the carefully thought out wardrobe of a young man. The black fur collar frames the bleached face of Venison. Only golden shoulder straps and a pair of buttons echo this striking contrast.
With his skillful drawing of light spots, the portrait painter emphasized the headdress of a model, curly sideburns, a straight nose and a raised jacket collar. The stylish black butterfly on the neck looks very elegant and gives out to the man a lover of everything beautiful: both in clothes and in art.
The work "Portrait of Venison" was written in Italian pencil and thick pastel. The background is worked out by rapid sharp lines of brownish tones. The image of the hero of the picture is serene and lyrical.
Today, the Tretyakov Gallery welcomes guests who want to enjoy the life of a portrait painter Kiprensky.