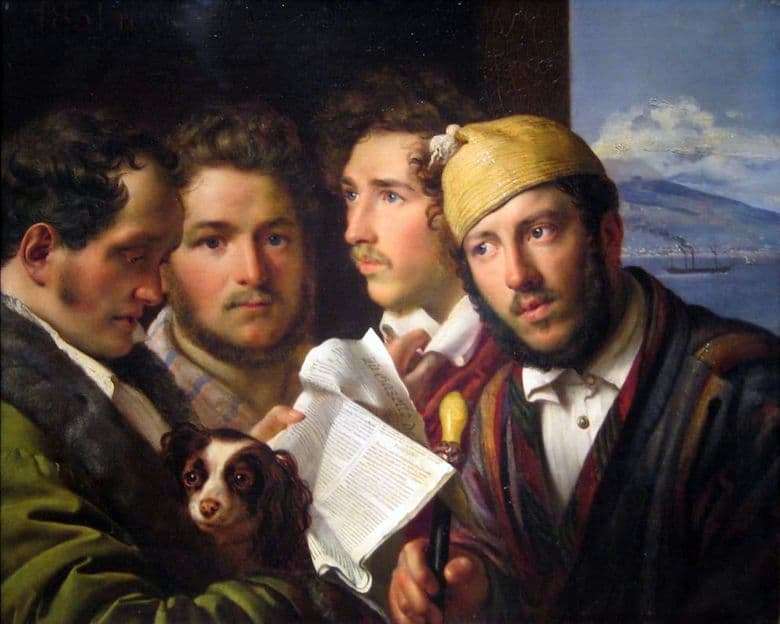 The picture in the center shows four young men. The man on the left reads a newspaper sheet aloud, and the others listen to him carefully.
Orest Kiprensky called the men depicted on the canvas Russian, although some of his contemporaries said that the artist had said so as to somehow smooth out political debates about the Polish uprising in November 1830. Another artist Andrei Ivanov wrote to Alexander Ivanov to his son, also an artist, that Kiprensky on this canvas painted portraits of the Poles.
Art historian Nikolai Romanov, who wrote about the history of art, suggested that four young people were Poles living in Italy.
In the foreground are Anthony Edward Odynets, Adam Mitskevich, Zigmund Krasinsky and Alexander Pototsky. Also, one man in his hands holds a decorative dog.
On the right, behind the young people, is the picture of the awakened volcano Vesuvius. At the time of O. A. Kiprensky his contemporaries considered the volcano to be a symbol of revolution. So symbolically the artist expressed his sympathy for public sentiment.
A man who reads the newspaper out loud is still holding a dog that looks out from under a newspaper sheet. With this detail the artist draws the viewer's attention to a newspaper article, emphasizes its importance.
Portraits of four young people became the first in the genre of group portrait. We can say that this picture is fundamental in this genre.