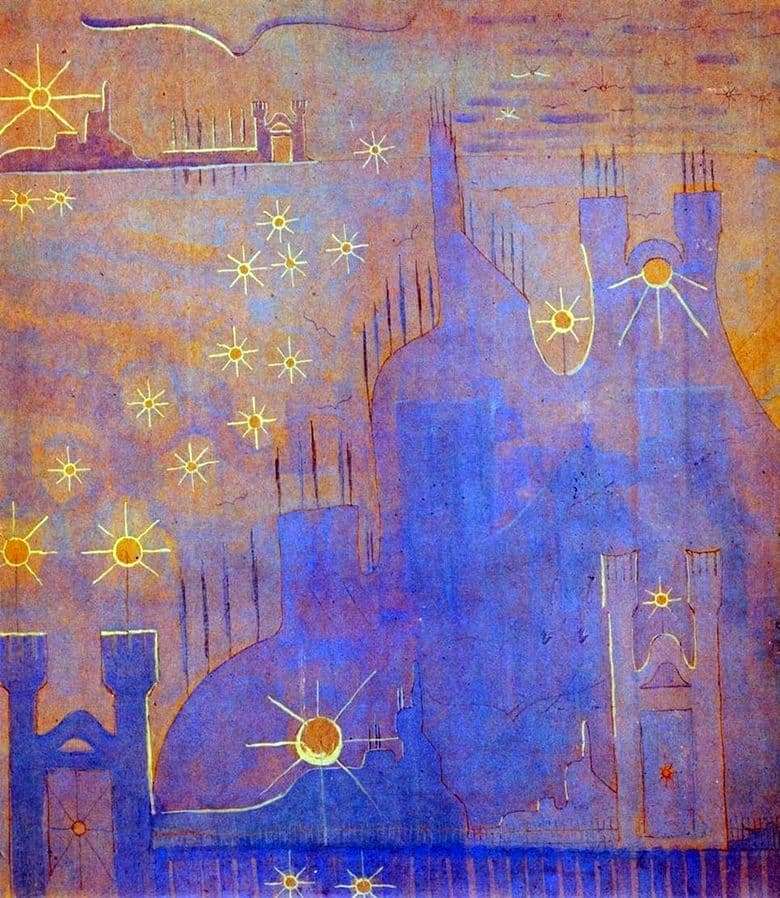 The first sonata of Mikalojus юрurlionis is drawn on paper with the help of tempera. The atmosphere of mysticism, magic and miracles overflows the picture along with the balance of all its elements.
The sun is the dominant element of the picture. Unusual is that on the canvas there are a large number of suns of different sizes, then distant, then close to the viewer. The sun as the main symbol adorns the two arches leading to the magical building. The bluish-purple building occupies most of the picture and sets the rhythm of the whole atmosphere of bliss and magic. The volume of a flat, at first glance, figure, gives the transition of shades from airy to more saturated. In the upper part of the castle one can see vertical stripes, symbolizing the direction of the sun's rays or a special fence protecting the magic castle. The background of the castle consists of shades of ocher, shimmering in blue and lilac.
The predominance of orange shades in the upper part of the picture gives warmth to the whole work of art. It is impossible not to highlight the originality of the contrast of warm shades of ocher on a pair with a cold blue color.
The upper left corner of the picture is perceived as the most distant part of it. In it, we can notice a hint of a mysterious island, on which is located the same castle with an arch, consecrated by a great sun.
The island is made in orange-purple tones, so it seems that the sun completely enveloped it, illuminating it with shades of sunset. Above this island one can see a curved line shaped like a flying seagull. The bird is one of the largest elements of the picture, giving the overall image vividness, realism and even more magic.